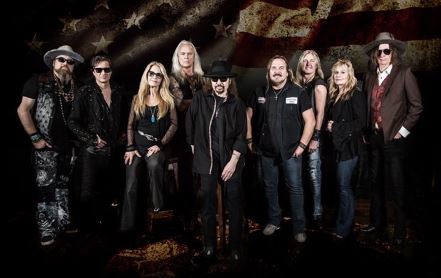 They say this is it – the last time around!
Lynyrd Skynyrd: Last of the Street Survivors Farewell Tour is coming to the Mattress Firm Amphitheatre on Saturday night, May 19th. Back in the day when we communicated by CB radios, my handle was 'Freebird'. I've seen them play a couple of times, and they are exactly what you'd expect – hard-drivin' southern rock, and a lot of fun.
My brother Dave is their biggest fan, and he's going to the show next Friday after winning tickets.  The local Bay Area radio station had Gary Rossington in studio, and had him tell a story about writing one of their songs – and the first caller who could name the song would get tickets.
Gary began the story with, "Ronnie and I walked into a bar….." and boom, Dave is calling in with Gimme Three Steps!
This might be the best music video ever: