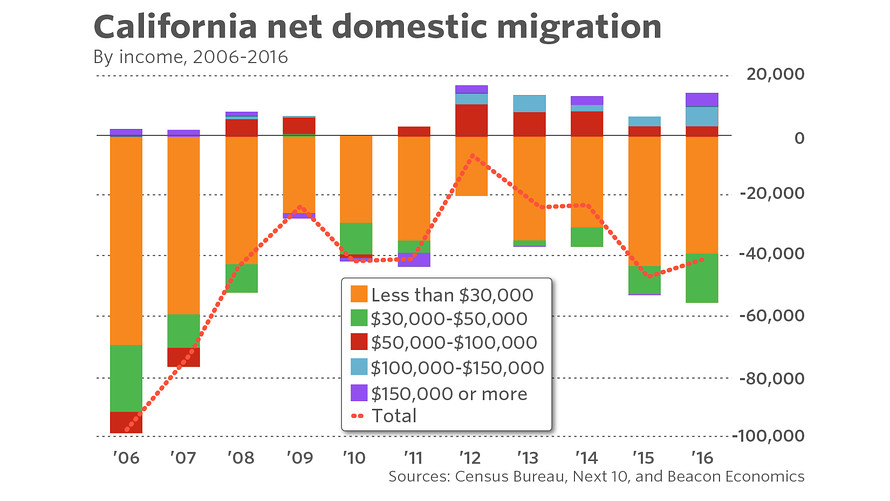 Lower-income folks are leaving, and affluent people are coming – H/T Richard:
Over a million more people moved out of California from 2006 to 2016 than moved in, according to a new report, due mainly to the high cost of housing that hits lower-income people the hardest.
"A strong economy can also be dysfunctional," noted the report, a project of Next 10 and Beacon Economics. Housing costs are much higher in California than in other states, yet wages for workers in the lower income brackets aren't. And the state attracts more highly-educated high-earners who can afford pricey homes.
There are many reasons for the housing crunch, but the lack of new construction may be the most significant. According to the report, from 2008 to 2017, an average of 24.7 new housing permits were filed for every 100 new residents in California. That's well below the national average of 43.1 permits per 100 people.
If this trend persists, the researchers argued, analysts forecast the state will be about 3 million homes short by 2025.
What does it mean?
California homeowners spend an average of 21.9% of their income on housing costs, the 49th worst in the nation, while renters spend 32.8%, the 48th worst. The median rent statewide in 2016 was $1,375, which is 40.2% higher than the national average. And the median home price was — wait for it — more than double that of the national average.
One coping strategy: California residents are more likely to double up. Nearly 14% of renter households had more than one person per bedroom, the highest reading for this category in the nation.
Coping can also mean leaving.
In a separate analysis, Realtor.com found that the number of people searching real estate listings in the 16 top California markets compared to people living there and searching elsewhere was more than double that of other areas — and growing.
And in those areas — counties including Santa Clara, San Mateo and Los Angeles — the growth in views of listings on Realtor.com was virtually unchanged compared to a year ago this spring, while views of listings in other U.S. areas were 15% higher.
Link to Full Article