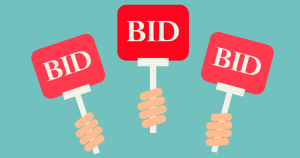 It's been an old wives tale that listing agents can't disclose to a buyer's agent the price and terms of competing offers. I found this at the N.A.R. website:
Real estate brokers may, unless prohibited by law or regulation, "shop" offers. Therefore, REALTORS® assisting purchasers in formulating purchase offers should advise those purchasers it is possible that the existence, terms, and conditions of any offer they make may be disclosed to other purchasers by sellers or by sellers' representatives except where such disclosure is prohibited by law or regulation.
Link to NAR website
Competing buyers are more likely to respond favorably if you give them a number to shoot at.  Sharing the price and terms of other offers is a way to create a slow-motion auction effect, which benefits both sides.  Buyers gain some transparency, and sellers get top dollar.