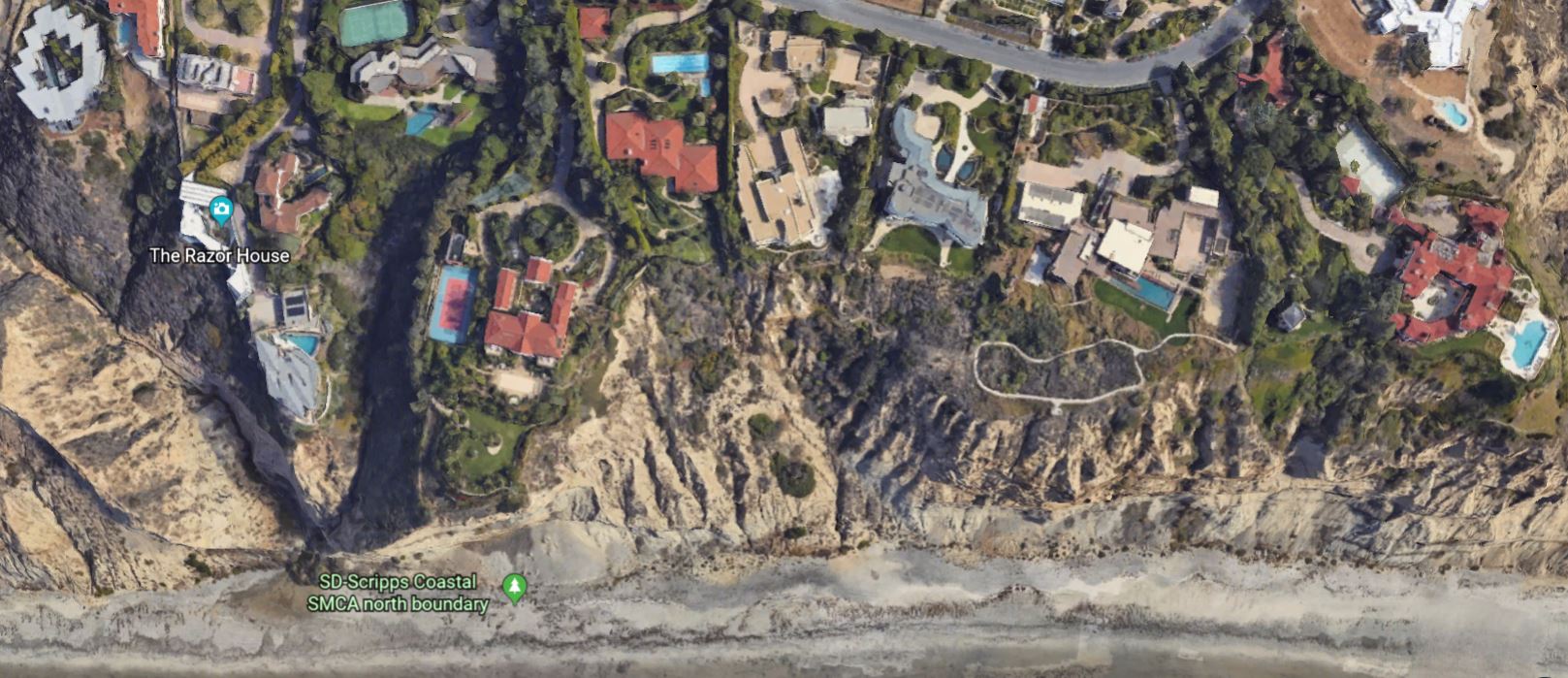 Those who took in the pro golf and spectacular weather at Torrey Pines today also saw a number of paragliders in the background.  It reminded me of our reader Murph checking out the bluff-front houses:
Here's how he described his close calls:
During my "formative" flying days (about 3 years ago) I had quite a reputation at the Torrey Pines Gliderport. Some of my hair-raising moments included……..
**I was losing lift and trying to make it back to the gliderport, but could not make it so I had to land at Black's beach. This is rather routine as you just aim for a dry section of sand. Well, as I was rounding a bend and setting up for a final *flare* to land I realized that it was high tide and that particular section of beach did not exist anymore! I landed in 4 feet of water and began a mad panic to unclip my gear before the waves sucked me and my wing back out to sea.
Never have I been so happy to see a middle aged nude guy, as he raced into the surf and held onto my paraglider so I could extricate myself!
**Once while flying over the Torrey Pines Reserve area the wind got too strong and I landed traveling BACKWARDS on the north side of Torrey Pines Rd with my wing draped over a tree. The lifeguards showed up and left when I told them I was uninjured. 15 minutes later I started hearing lots of sirens. They started getting louder and before I knew it there were 4 emergency vehicles there. I told them I was okay so they all left….including a hook and ladder truck that COULD HAVE helped me get my wing out of the tree, but hey…I was alive AND unhurt so no worries here!
** My alternative landing stories also include one where I was trying to fly with the big-boys above Scripps aquarium. In my attempt to make it back to the lift-band along the cliffs I sunk-out and had to land right on La Jolla Shores Dr. Fortunately for me a construction truck not only yielded, but even gave me a ride back to the gliderport!
Luckily I have never hurt myself or anyone else. Torrey Pines is actually a very safe paragliding site……as long as you stay within your comfort zone and fly smart.  The more I fly the more conservative I get. My library of noteworthy "stories" has not expanded in the last couple years.