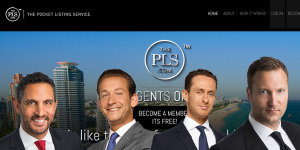 Let's just quit N.A.R. and the rest of the bureaucracy and join together as a network of agents who share listings among ourselves! Hat tip to daytrip for sending this in:
For many high-priced and desirable properties, especially in metros such as LA, the sales process rarely involves actually going out on the market. Many realtors often rely on pocket listings—offering homes to a small circle of select potential buyers and brokers through connections or word-of-mouth—to float potential sale prices or restrict who has access to a particular sale.
The process has been widespread but informal (according to realtor.com, pocket listings account for under 10 percent of home sales), at least until earlier this year. In August, a group of four Los Angeles real estate professionals, Chris Dyson and Mauricio Umansky of The Agency, and James Harris and David Parnes, stars of Million Dollar Listing Los Angeles, launched the Pocket Listing Service, a play off the multiple listing service (MLS), a national property database.
"There are many sellers that quite frankly demand a certain level of discretion," says Dyson. "They're selling but don't want people to know their house is for sale. Other want to test a certain price point. The PLS gives them a more efficient platform."
According to Dyson, who has been involved in LA real estate since 2005 and focuses on Hollywood Hills, Malibu and the west side, pocket listings have become an increasingly large part of his business. But there was an obvious void in terms of an organized, widely accessible way to find these listings. Before the PLS, he would announce, or hear about, such sales via emails sent to a handful of brokers and other friends in the industry. Now, his new site allows users to search a database that's not open to the public.
"You're only as good as your list," says Dyson. "The PLS gives you wider access to an agent network."
Since the site launched in August, the PLS has attracted 1,500 new agent accounts, covering all 50 states, and has had $1.4 billion in assets listed, according to Dyson. Most of the activity in facilitating sales has come from Los Angeles, though Austin, Dallas and Miami have also been very busy.
Agents must be licensed (for instance, agents from California need to enter their BRE number to sign up) and can give as detailed or vague a property description as they want on the site. After signing up, they're given a year of free access.
Previous sites have attempted to create a similar database, such as Top Agent Network and offMLS, according to The Real Deal, but the personal nature pf pocket listings, as well as the oxymoron of a "public database of private listings" has proven challenging.