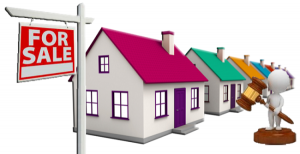 This start-up has the right ingredients, but their auctions do have a reserve amount and no buyer-agent commissions, which cuts out other agents.  They say  "No Double Ending', but when the buyers are unrepresented it puts the listing agent in an agency position – if the buyers ask a question, and the agent replies, an agency relationship has been created. 
Every start-up wants to beat out realtors, and think that the consumers will trust their faceless, unproven venture instead:
TORONTO, Oct. 18, 2017 — There is a new way to buy and sell real estate in Ontario. With today's official launch of On The Block Realty, the uncertain and often frustrating process of trying to navigate the home market has taken an innovative step forward. This brand new real estate brokerage based in Toronto, has opened its doors to the public, offering new unique approaches to the industry.
Chief among these advancements is the development of a cutting edge online auction platform that is aimed at bringing much needed transparency to buyers and sellers. The home buying process has been protected by silent bids in many situations, leaving buyers confused about what price to pay, and sellers concerned that some buyers may not have offered their best price. Inspired by the successful practice of real estate auctions in countries like Australia and the UK, this new system offers an exciting alternative for sellers who want to be certain they have maximized every bid from prospective buyers. It also ensures that every buyer has an equal opportunity to buy without any secrecy guarding the process.
"This isn't about changing or fixing anything, it's about evolving," says CEO Daniel Steinfeld. He adds, "People deserve a choice when they make the biggest financial decision of their life. They also deserve clarity about every aspect of the transaction. We provide that."
While the auction platform is the most distinguishing feature of this premium brokerage, there are several other features that the company believes will set it apart from the traditional brokerages in Ontario.
There is a 'No Double Ending' policy that ensures both sides of a transaction are never represented by the same Realtor. President and Broker of Record Katie Steinfeld says, "It is impossible to fathom that people with perfectly opposite financial objectives could have their best interest adequately represented by the same person." She continues, "This is especially so when that individual stands to make more money by being on both sides of the transaction." While the Ontario government and real estate industry have diverted from the point of protecting the consumer's best interest, On The Block has done what makes the most sense – disallow the concept from their business model.
Prospective buyers without representation can still fully participate in a purchase or bidding process, but will not have a client relationship with On The Block – and if they choose to purchase without representation, there is no additional commission payable by either the buyer or the seller. "Buyers are entitled to an understanding of how commissions work. Just because it is widely positioned that the sellers 'pay' commissions, that cost is directly coming out of the sale proceeds, and ultimately a cost to the buyer," Mrs. Steinfeld explains. On The Block's Transparent Commission Policy explains that buyers should only pay for the service they receive, and so purchasing without representation shouldn't cost them the extra 2.5% that often get baked into the purchase price.
Beyond the increase in transparency, the company provides a first of its kind 'all inclusive' approach to selling a home. One of the most unique included features is that homeowners are given a week in a partner hotel during the selling process to take away the stresses of cleaning and constant vacating that come with showings of the property. This is in addition to perks including professional photography, home inspections, and one of a kind custom signage for every property. "We are trying to sell a home, not ourselves," Mr. Steinfeld says. "The high end signage is the largest legally allowed, and it is completely focused on the property it is trying to sell, not the brokerage or the name of the sales representative."
Interested sellers are invited to use the platform at an introductory rate that includes all the bells and whistles, but costs less than half of what traditional Realtors charge.
It has been well documented that the real estate market could use a new approach. Perhaps this is the big change everyone has been waiting for.
About On The Block
On The Block is a premium real estate brokerage and auction house offering prospective home sellers the option to sell by auction or traditionally. As platforms like Uber and Airbnb have disrupted their spaces, On The Block is positioned to challenge a real estate process that for too long hasn't seen significant change. With home prices continuing to fluctuate widely, and affordability diminishing, it's more important than ever to give people some choice and power in the biggest selling and purchasing decisions of their lives.