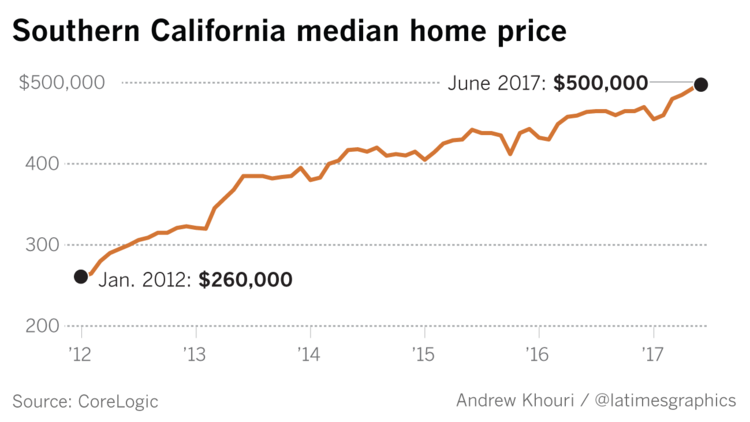 An excerpt from this article:
http://www.latimes.com/business/la-fi-home-prices-20170725-story.html
Home prices have now been rising for more than five years, the result of a growing economy, rock-bottom mortgage rates and a shortage of homes on the market.  Economists said that absent a recession or a surge in mortgage rates, California home prices could keep climbing at 5% a year for the foreseeable future.
That's faster than the long-term average of 3% nationwide, but it's difficult to build housing in California and the economy is strong, said Richard Green, director of the USC Lusk Center for Real Estate.
"It could go on for another four or five years," he said.
CoreLogic's report showed that home prices in Southern California rose in every county last month compared to a year earlier, not just in Orange and Los Angeles counties.
In San Bernardino County, the median was up 12.3% to $320,000; in Riverside County, 7.5% to $357,000; in Ventura County, 2.7% to $565,000; and in San Diego County, 9.8% to $543,500. Across the region, sales rose 4.3%.
Chris Thornberg, founding partner of Beacon Economics, said he doesn't expect a recession and thus doesn't foresee a time when home prices stop rising.
"Candidly, the only thing that could upset the apple cart in California is if we build a whole bunch of housing and that's as likely as an alien attack."