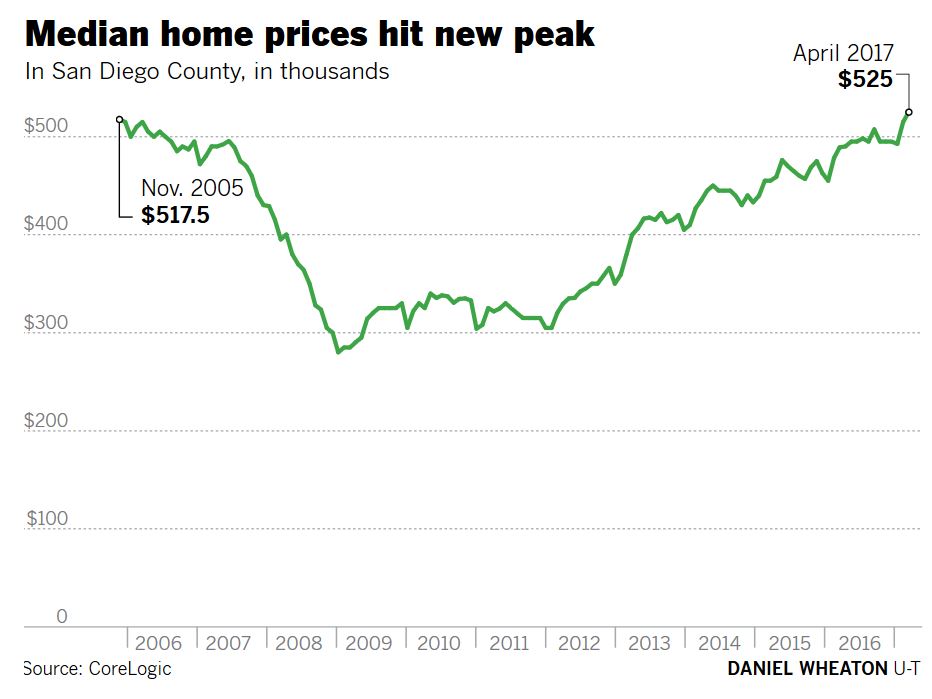 Glad to see the U-T relying on Rich for an explanation!
The San Diego County median home price hit $525,000 in April, passing the region's previous peak reached in 2005, real estate tracker CoreLogic reported Tuesday.
High demand and tight supply appear to have pushed the price beyond previous milestones. There were 3,618 homes sold in April — the lowest for that month since 2012.
Supply is dwindling, too. In April, there were 4,763 active home listings in San Diego County, said the Greater San Diego Association of Realtors. That is down from 5,754 listings the same time last year and the 6,386 in 2015.
When adjusted for inflation, the nominal November 2005 peak of $517,500 would be roughly $644,500 in 2016 dollars. Still, the San Diego median price is noteworthy for increasing 7.4 percent in a year and outpacing most of Southern California.
Housing bubble fears are likely with the new median but home prices would have to rise 40 percent (assuming no income or rent growth) to be as overvalued as much as they were during the last peak, said Rich Toscano, who predicted the last housing crash on his blog Professor Piggington's Econo-Almanac.
"Homes are definitely expensive when you compare purchase prices to rents and incomes," he said. "They are the most expensive they've been outside the bubble. But, it still doesn't compare to the expensiveness of the bubble."
Toscano said low interest rates are keeping the monthly mortgage rates somewhat affordable and home valuations high.
"In theory, for as long as low rates persist, they could keep supporting the prices," he said. "The big question is if that will continue to happen and the smartest people in the world disagree on that."
There were 2,306 resale homes sold in April, bringing the median home price to $575,000, a new peak surpassing the previous record of $574,000 set in May 2006. The resale condo price was $385,000 with 1,108 sales — still $15,000 away from the peak set in April 2005.
Save