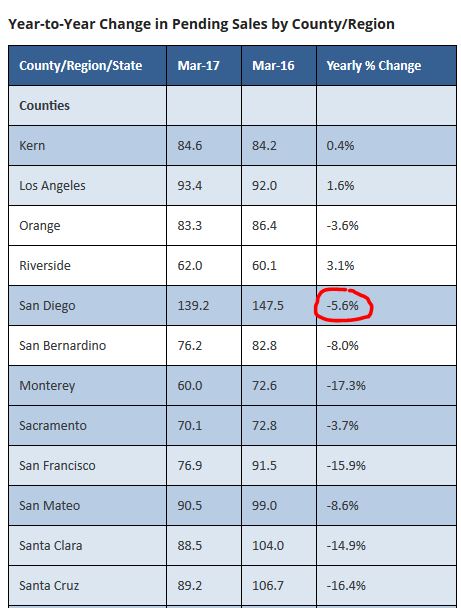 Something price could fix…..
California pending home sales downshift for third straight month in March
LOS ANGELES – Even with a strong performance in March closed escrow sales, a shortage of available homes and robust price growth that's eating away at affordability stifled pending home sales for the third straight month, the CALIFORNIA ASSOCIATION OF REALTORS® (C.A.R.) said today.
Following seasonal factors, REALTORS® responding to C.A.R.'s March Market Pulse Survey saw elevated market activity, with an increase in floor calls, presentations, and open house traffic for the third month in a row.
Pending home sales data:
• Based on signed contracts, statewide pending home sales decreased for the third straight month in March on a seasonally adjusted basis, with the Pending Home Sales Index (PHSI)* declining 4.5 percent from 112.5 in March 2016 to 107.4 in March 2017. On a monthly basis, California pending home sales dipped 2.9 percent from the February index of 110.6.
• March's pending sales decline is the greatest so far this year, portending sales activity in the usually busy spring homebuying season will be dampened, primarily due to demand outstripping the supply of active listings, which was 12 percent lower than in March a year ago.
• At the regional level, Southern California remains the bright spot in the state, which led both in closed escrow sales in March and the smallest decrease (-1.3 percent) in March non-seasonally adjusted pending sales. In fact, Los Angeles and Riverside counties were the only two areas of Southern California that saw an increase in pending sales from a year ago, at 1.6 percent and 3.1 percent, respectively. Pending sales fell 3.6 percent from March 2016 in Orange County, 5.6 percent in San Diego County, and 8.0 percent in San Bernardino County.
http://www.car.org/aboutus/mediacenter/newsreleases/2017releases/mar2017pendingsales
Save