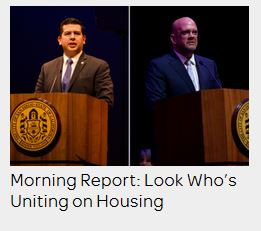 Those who want to get involved in smart growth/affordable-housing issues can attend the San Diego City council meeting today at 2:00pm. The City Council members have submitted ideas, summarized here:
Sell or lease government-owned land.
Defer or waive permit/development fees.
Streamline the approval process.
Solicit state and federal funding for affordable housing projects.
Encourage granny flats and smaller houses and lots.
Reduce parking requirements.
Tax rebates for building affordable housing.
Issue specific policy on short-term vacation rentals (Airbnb).
Andrew covers the topic here:
http://www.voiceofsandiego.org/topics/government/city-councils-odd-couple-finds-common-cause-on-housing/