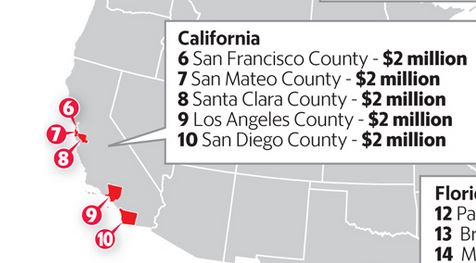 Just a month after President Donald Trump's inauguration, a federal anti-money laundering program that targets luxury real estate is set to expire.
The dragnet monitors pricey home deals for signs of dirty cash, helping detect criminals who launder money through real estate. Manhattan and Miami-Dade County were the first markets scrutinized by the feds.
Here's the big question: Will Trump — who made his money as a developer — keep the heat on the real estate industry? And if the administration of a developer-turned-president chooses not to renew or expand the regulations, will it be perceived as a conflict of interest.
Unlike other industries where cash changes hands freely, real estate has few checks on buyers.
Drug dealers and corrupt foreign officials have been busted buying condos and mansions in the United States. While the Obama administration rules were blasted by developers and brokers as faulty, they don't seem to have hurt business as much as first feared since going into effect in March.
Read more here:
http://www.miamiherald.com/news/business/biz-monday/article127809744.html