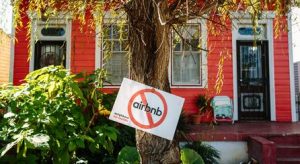 If you are buying, you should check the Airbnb website to see if there are rentals nearby the home you are considering, because they aren't going away.  Here is the latest on the tug-o-war:

http://www.nytimes.com/2016/12/07/technology/new-orleans-airbnb-model.html?_r=0
An excerpt:
In New Orleans specifically, Airbnb agreed to share data — such as the names and addresses of its hosts — with the city, something the company has balked at doing elsewhere. Airbnb also agreed that its hosts must operate with a permit, with hosts automatically being registered with the city when they sign up to the service. In a nod to the local hotel industry, Airbnb will also ban almost all listings in the city's historic French Quarter and set a 90-day annual cap for hosts who rent out entire homes.
"This is just the beginning," said Laura Spanjian, a public policy manager at Airbnb who negotiated with New Orleans. "We need to make sure that the rules work and that the city can enforce them, but we want this to be a model going forward."
Lawmakers also knew that the city would need more money to enforce new short-term rental rules. So Airbnb agreed to collect hotel taxes and an additional $1-a-night fee from guests to help defray such costs.
But there was a sticking point: sharing data about Airbnb hosts with the city. Airbnb was initially reluctant to do so because of privacy concerns for its hosts. The company eventually agreed after New Orleans officials said they would protect the data and not make it public. That information will be essential in helping the city register hosts and for fining hosts $500 a day if they violate the new home-sharing rules. The city can even shut off utilities to Airbnb properties where rules are being broken.
"I was pleasantly surprised by the dialogue and by Airbnb's approach," said Mr. Berni, the deputy mayor. "It was more amicable than what a lot of other cities had experienced."
Some city officials elsewhere are skeptical about whether Airbnb's conciliatory approach will stick. In Amsterdam, which just finalized new rules that allow Airbnb itself to crack down on hosts who violate them, some politicians noted that a previous agreement the company made with the city was inadequate.
"Two years ago, Airbnb used its agreement with Amsterdam as an example of a good deal, but now we had to create a new one because what we had was not enough to enforce against illegal rentals," said Marjolein Moorman, the leader of the Labor Party of Amsterdam. "I don't believe that the company will enforce the laws we have."
In New Orleans, some residents are also unsure whether the new rules forged with Airbnb will bring about change. Mary Moses, a legal assistant who lives in the historic Faubourg Marigny neighborhood with her husband, said that a full-time Airbnb next to her house that takes in guests every weekend has destroyed the quality of life.
"We love tourists in New Orleans," she said. "But there is a 24-hour party three feet from my house."
Ms. Moses is now waiting to see whether the sometimes loud, disruptive events next door will violate some part of the new city rules and whether anything will be done to stop the bad behavior.
"Maybe things will get better," Ms. Moses said. "But Airbnb is changing everything."
Another impact of Airbnb is how the converting of long-term investment properties to vacation rentals is taking homes out of the marketplace for regular tenants – putting more pressure on rents in general.
Save