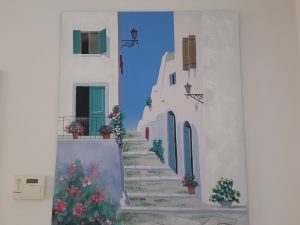 We did open escrow before Thanksgiving on the sale of the two-bedroom  home in Trilogy 2 in Carmel Valley.
The MLS entry had been on Friday morning, with open house scheduled for 12-3 on Saturday and Sunday. The weather was somewhat overcast, it is a gated community, and it was the week before Thanksgiving – how many would attend?
Being the least-expensive detached-home in the whole zip code probably drove the activity, and we had parades of people both days.  By Tuesday, I had received seven written offers!
Here are my notes:
As what usually happens, the first person who came to Saturday's open house was probably the most-motivated – and made a great offer, though not right away.  I didn't get any offers until Sunday, which made me think that buyers were either being very diligent about price, and/or strategic about delaying their offer, knowing that we were doing open house on Sunday (it is better to wait until after Sunday's open house and get a feel for the action).
Not only were the offers rolling in slowly, but they were also very orderly about price – nobody was going much over list, so it was a real horse race.  The comps were a problem, for a number of reasons; a) All three Trilogy neighborhoods use the same street name, Carmel Creek (making them all sound the same), b) some of the comps backed to busy streets, c) there is a 1,409sf, and a 1,410sf model, but they aren't that similar.  To help buyers sort it out, I produced a simple map: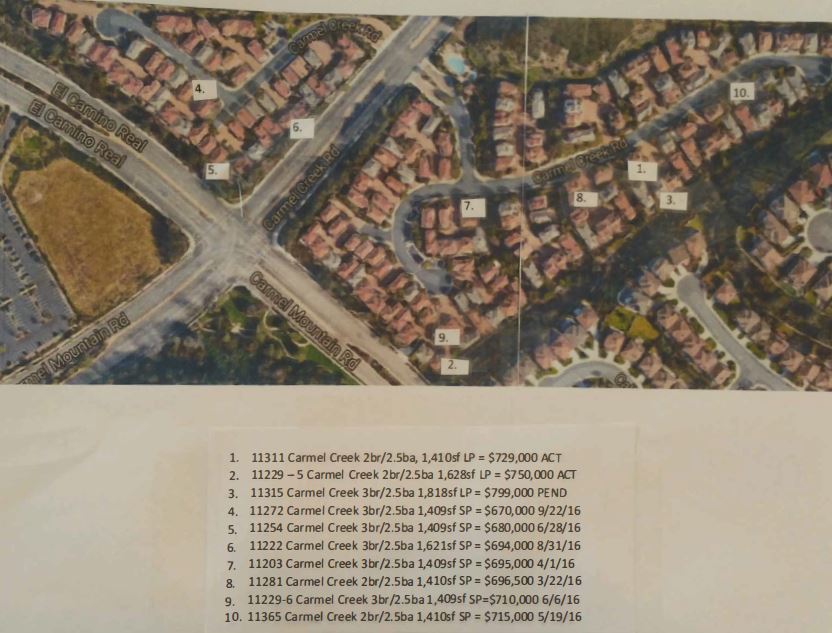 If I had a chance to do it over, for easier reading I would group 1,3,7,8,10 as the more-valid comps, and those with street noise (2,4,5,6,9) as the inferior group.
3. We issued requests to every buyer for their highest-and-best offer, which helps to make it a fair race – the early offerors may not have known how competitive it is, and they deserve a chance to re-bid. Another benefit of requesting highest-and-best offers is that it buys time for other buyers to get in the game. In this case, the winner saw the house on Monday, and made offer right away.
4. I was working the phones all weekend, so once we opened escrow on Tuesday, I thought the action might die down.  But I got another handful of calls from people who saw a rental ad in Craigslist – and it's not the first time it's has happened. Somebody took my pro photos and remarks off my listing and created a Craigslist rental ad for $1,975 per month, which is well under market.  It is a scam that has been running for years – the guy on the phone tries to convince people that the rent is so attractive that you won't mind sending the first and last month's rent to a faraway address and wait by your mailbox for the keys.  But they never come.
I notified Craigslist immediately, and they are quick to take these scam ads down, but you feel sorry for anyone who gets duped.
Save