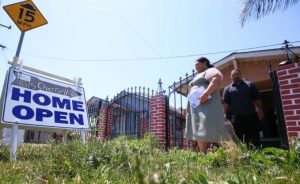 Here are examples of real estate deals in the Bay Area, where buyers are happy just to get a break on the price.
http://www.mercurynews.com/2016/09/20/bay-area-real-estate-prices-down-from-august-up-from-a-year-earlier/
Here are excerpts:
In the Bay Area housing market, it appears to be a game of cat and mouse.
Sales of single-family homes in August crept up ever so slightly from the year before as many buyers took a wait-and-see attitude, challenging sellers to negotiate — something unheard of in the overheated market of 2015.
Could a price break be coming to the region after years of steady appreciation? Perhaps.
"Outside hotly contested areas, we're seeing price adjustments of a kind we haven't seen in some time," said Timothy Ambrose, treasurer of the Bay East Association of Realtors. "Buyers start thinking, 'Well, should I wait?'"
But hang on, he and other experts warned. The regional market is a complicated one, with techies still driving up home prices in micromarkets from Palo Alto to Oakland's Rockridge neighborhood. And this wouldn't be the first time the overall market has slowed in late summer, as children go back to school and families call off their house hunts.
The Silicon Valley market is unpredictable, said Pacific Union agent Wendy Kandasamy, based in Palo Alto: "The market is so dynamic. It's hard to say with certainty when a property will sell."
She called August — typically the doldrums for home sales — an anomaly, ticking off details of five sales for $5 million and up. One five-bedroom house in Palo Alto sold for $7,795,000 — almost $1,900 per square foot, a figure Kandasamy called "extraordinary."
Yet in lower price brackets, she said, buyers have backed off and sellers find themselves negotiating.
Her client Clifford Chao can attest to that. A Google engineer, he and his wife, Jackie Ling-Chao, who also works in tech, spent months house hunting. With one young child and another on the way, they wanted something larger than their downtown Mountain View condominium.
Initially they set their budget between $1.8 and $1.9 million, but that wasn't getting them the house they wanted in a top school district. So they decided to stretch the budget. "It'd be painful, but we could," Chao said.
And then the unexpected occurred: He noticed that "certain houses that should be getting 10 offers suddenly couldn't sell. It was only happening in this one price range of between $2.1 and $2.4 million. Everything seemed to tumble, sometimes by about 10 percent."
The couple watched, waited and successfully bid on an Eichler-style home in Palo Alto: four bedrooms with a spacious backyard on a 7,000-square-foot lot. It listed for $2.3 million. After a previous buyer backed out of a deal, Chao and his wife grabbed it for $2.17 million.
"I think we did get a little bit lucky," he said. "It's what we wanted — perfect."
Alain Pinel agent Mark Wong also finds the market to be mixed. On the one hand, he identified six homes that sold last month in Cupertino for between $200,000 and $417,000 over the asking price, the latter example attracting 23 offers. Yet such bidding battles are no longer the rule, and with the market's long-range prospects unknowable, he has advised some clients to get off the fence.
His clients Shue Pun, a marriage and family therapist, and her husband, Heman, a graphic artist, decided to sell their Cupertino townhouse, where they lived for 13 years and raised their son, who now works in Southern California. The townhouse is in an excellent school district, but sits on a busy street — part commercial, part residential — and Wong told them it likely wouldn't sell for the $1.2 million or so that they had anticipated.
Listing it for just under $1.1 million, they held an open house that attracted 110 visitors — but no offers. "A real disappointment," Shue said.
But a few weeks later, a couple with two young children — "a perfect fit" — bid $1.05 million. The Puns, who purchased the townhouse 13 years ago for $520,000, accepted the offer and now plan to buy a house in San Jose, close to their church.
Like the Bay Area weather, the region's real estate market varies from town to town and neighborhood to neighborhood, said William Doerlich, president-elect of the Bay East Association of Realtors. He estimated that upward of 50 percent of his clients work in tech.
"They're tired of the $4,500 apartment in Potrero Hill" in San Francisco, Doerlich said, so they move to the East Bay, preferably close to BART and in a "walkable" district, and they "gobble up" houses, whether in Oakland or Dublin.
Or in Fremont, where his client Erin Suth — unwilling to go along with $1,300 in monthly rent for her 480-square-foot apartment in Castro Valley — found an old cottage house on a spacious lot. Built in 1924, it was completely renovated: new plumbing, new granite counters in the kitchen, a flagstone front porch. It listed for $430,000.
Suth, who is 26 and a regional manager for a recruiting company — not even a techie — bid $450,000 and now owns her first house. "It's darling," she said.