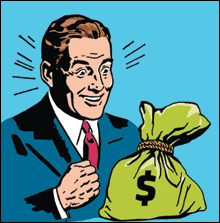 Our local market has been solid as a rock, and we know that banks have quit foreclosing.  Could we ever have another distress sale – a seller who doesn't hold out for their price, but instead takes less in order to cash-out and go?
Can we predict who might take a quick and easy deal?
90 year-olds and up  – Those who die intestate will have the public administrator sell their house the right way via an open auction with no reserve and a reasonable opening bid.  Many will leave enough meat on the bone for flippers to tack on another 10% to 20%.  Nothing to fear there.  Or their kids will sell for retail or move in.
70-90 years old – They too own their house outright, and hopefully have family assisting them with decisions.  If they had any mortgage balance left, it would be far below the retail value, so these folks are ideal candidates for a reverse mortgage.  Because our tax laws favor selling the home after death, these will have their kids quietly put the house on the market once vacant and take a simple deal that is close to list.
50-70 years old – This is the category at risk, and could be the new 'distressed' sale for those who still have a loan.  If you have 10-29 years left on your mortgage, and your health/job/spouse gives out on you, that monthly payment becomes more of a burden.  If nearby home prices have flat-lined or are bouncing around, the allure of cashing out becomes more tempting.  If you had to take 5% to 10% under comps, you'd still be selling for a boatload of money, price-wise, and in 30-45 days be on your way to an easier life.
This could happen to folks who have money. If your health/job/spouse gives out on you, it's a game-changer, and the discomfort with the debt/payment could cause a rash decision.
30-50 years old – You bought in the last ten years, and are in it for the long haul – and the kids aren't that old.  Few sellers in this category.
Under-30 – No sellers this young, and anyone under 30 should buy anything they can get their hands on!
It's unrealistic to expect a massive outbreak of cheap-and-easy sales that would torpedo a whole market.  But it's possible to see skirmishes in areas where homes were sold 10-20 years ago.  If they refinanced in the last 5-10 years, they still have 20+ years left on that mortgage – and that's a long time for people who are over 60 years old and uncomfortable being in debt.
Debt is a funny thing.  As people get older, debt gets more uncomfortable, just because of the calendar – they know time is running out.
Think about it.  If you have already considered moving to a less-expensive area, and thought you had $300,000 equity, but then saw two quick-sale comps nearby bring down your equity to $250,000.  Your wife splits or you lose your job and you decide to sell.
But the best you could do was $225,000 equity (minus costs).
Do you sell for the discounted price?
Yes, because the outside factors tend to be more important.
Save