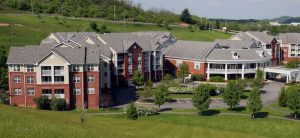 Baby boomers have all the money, and are downsizing everywhere – who are the buyers of the future?  People who inherit or get gifts from baby boomers.

From HW:
http://www.housingwire.com/articles/37391-freddie-mac-what-baby-boomers-want-in-their-next-home
Many Baby Boomers and others who are older than 55 are planning to move into a rental unit in the near future, according to Freddie Mac's 55+ Survey of housing plans of people born before 1961.
They survey is based on responses from almost 6,000 homeowners and renters born before 1961.
The results show that about 6 million homeowners, as well as the same number of renters, want to move again and rent. About 5 million of those expect to rent by the year 2020.
Of those who expect to rent their next home, about 79% of renters and 83% of homeowners say it will cost the same or less than what they are paying now, according to the survey.
"When a population this large expects to move into less expensive rental housing, we have to expect it will create significant new pressure on both the supply and cost of existing affordable rental housing," said David Brickman, Freddie Mac Multifamily executive vice president.
In fact, more data is beginning to suggest that mortgages and homeownership may not be the American Dream as Baby Boomers begin moving into the apartments and urban areas.
As Baby Boomers plan to make their next move, these are the 4 things they will be looking closely at:
1. They plan to rent versus buy their next home
Of renters over 55 planing to move again, 71% said they will rent their next home. In fact, 59% say it makes financial sense for people their age to rent.
2. Top attractions include affordability and amenities
The top "very important" factors that influenced their next move included affordability at 60%, amenities needed for retirement at 47%, living in a community where they are no longer responsible for caring for the property at 44% and being in a walkable community at 43%.
3. They don't want to move far
Of those planning to move again, about 31% of renters over 55 want to move to a different neighborhood in the same city, and 23% want to move to a different property in the same neighborhood. About 18% would like to move to a different city in the same state, and 24% would like to move to a different state.
4. They want family near (or in) their next home
In predicting their retirement situation, about 60% said they would prefer their family to live near or with them. Hispanic single-family renters were the most likely to predict they would move closer to family at 44%. Multifamily Asian-American renters were the most likely to say they will move in with their children at 40%.
As the Baby Boomers plan to move into lower priced markets, apartments and urban areas, they may even begin pushing the Millennial first-time homebuyers out of the market as it becomes more competitive.
Affordability continues to be an issue as 47% of the 55+ renters say they struggle from paycheck to paycheck, 13% sometime even unable to afford basic necessities until the next paycheck, according to the survey.
Save