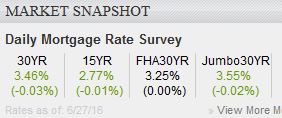 How is the Brexit going to impact the sales of real estate?
From MND:
There's no telling how long this "initial reaction" period will continue and what the longer term effects will be, but for now, the short term effects have been strongly positive for rates.  The most prevalent conventional 30yr fixed quote is still 3.5% on top tier scenarios, but 3.375% gained a lot of ground today.  With just a bit more improvement, the average lender would be at 3.375% for the first time since early 2013.  This is also the lowest stably-maintained rate we've ever recorded (there were scattered instances of 3.25% back in 2012).
The Brexit will be great for mortgage rates, and we could – and should – see the lowest rates yet.  The 10-year closed today at 1.4377%, and we add 1.75% to it to find the target for 30-year conforming rates (3.18%).
Lenders are like gasoline companies, and reduce their rate slowly on the way down.  Hopefully, by the end of the week, we could see the 30-year mortgages being quoted around 3.25%!
But home buyers are concerned about overpaying, so lower rates will just keep them optimistic – they won't make them want to pay more for a house!
There will be more turbulence, but never as a society have we had such teflon memories. We just swipe it all away!