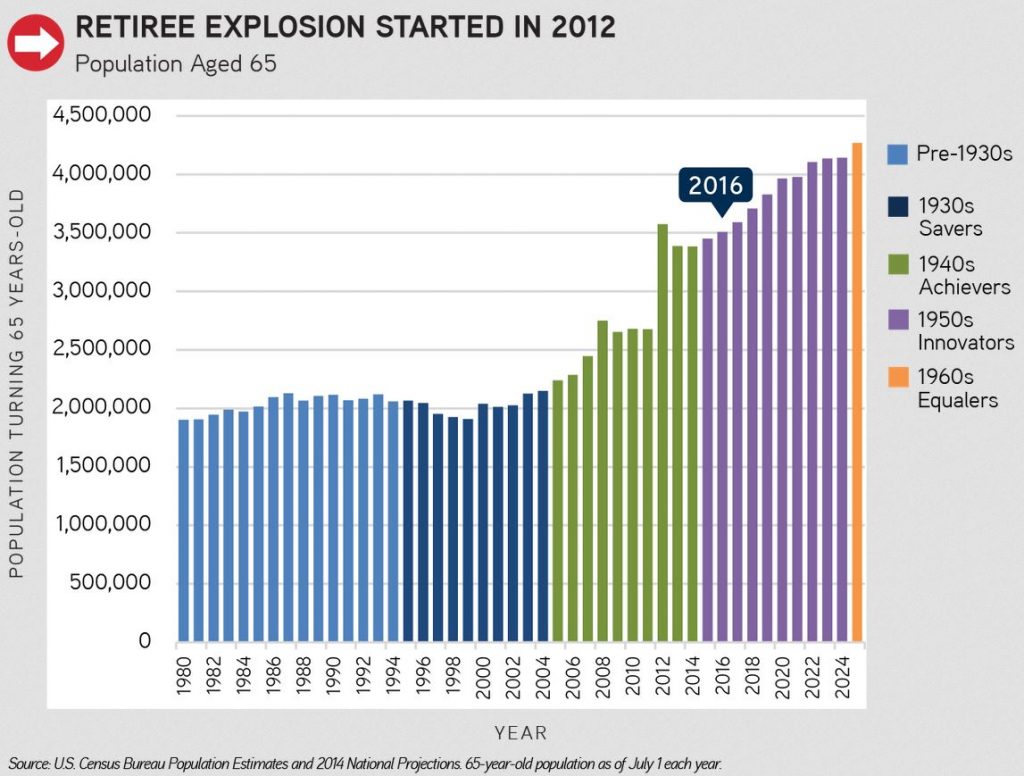 From our friends at John Burns Real Estate Consulting:
http://realestateconsulting.com/the-retiree-surge-is-here/
Only 10 years ago, 2.2 million people were turning 65 each year. That number has surged to 3.5 million this year and will grow to 4.2 million in 2025!
Tomorrow's retirees will completely transform the housing industry. We have done a tremendous amount of research on this group, all of whom were born in the 1950s. We call them the Innovators because they have created so many innovations throughout their lives. They are:
Tech savvy, which began with their space race fascination as kids
Family-oriented, with almost 50% reporting that they intend to live with their parent or adult child in the near future
More affluent than any prior generation of retirees, thanks to:

Careers that perfectly coincided with a strong economy
A workaholic attitude that led to more double-income households and delayed retirement
80% homeownership, with the majority having no mortgage today
30 years of falling interest rates boosting home values and retirement accounts
All of these factors above will play into the Innovators' next housing move. They will:
Innovate retirement to be more about health, family, experiences, and continuing to work
Move several more times, including selling their home and moving into a rental in an urban area that is walkable to entertainment
Focus more on living near their kids, with huge rewards to the builders who sell multigenerational-living homes that satisfy Innovators' needs
Continue migrating south, but not just to the traditional retirement areas, as they will want to be near their kids and a job
The chart above comes from our upcoming book The Big Shifts Ahead: Demographic Clarity for Businesses and shows how dramatic the retirement surge has been recently—and will be in the future.