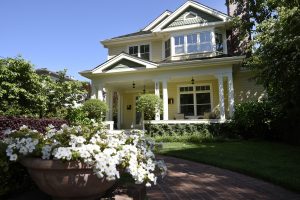 A pullback in Silicon Valley? It could happen anywhere!
http://www.bloomberg.com/news/articles/2016-05-17/silicon-valley-mansions-linger-on-market-in-real-estate-slowdown
Excerpts:
A custom-built home in the heart of California's Silicon Valley had its price cut by $500,000 last week after sitting on the market since the end of March — a move that would've been almost unfathomable a year ago and a signal that frenzied demand has peaked.
The six-bedroom, five-bath house in Palo Alto — located blocks from Stanford University and the homes of Google co-founder Larry Page and Steve Jobs's widow, Laurene Powell Jobs — is now listed for $7.5 million. It joins a growing inventory of high-end homes in the area that are taking longer to sell.
"We've recently noticed a slowdown," Jack Woodson, who works at Alain Pinel Realtors in nearby Menlo Park, said on a tour of the house in the Old Palo Alto neighborhood. "Buyers are taking more time to decide about making offers."
Silicon Valley, the most-expensive U.S. housing market, is seeing a pullback by the wealthiest homebuyers after a four-year real estate boom marked by bidding wars and multimillion-dollar prices. Stock-market turmoil, a drop in foreign investors and concerns of a technology-industry slowdown are cooling demand at the high end, even as interest remains robust for more moderately priced properties.
In Palo Alto, an ultra-wealthy city that's home to many Google and Facebook Inc. executives, homes costing more than $5 million were on the market for a median of 16 days in April, compared with 11 in the same month in 2015 and 10 in 2014, according to data from Irvine, California-based John Burns Real Estate Consulting. The 11 active listings in that price range as of May 14 have been on the market a median of 30 days.
"The seemingly inexhaustible well of very high-end buyers has proven exhaustible after all," said Dean Wehrli, a senior vice president at John Burns. "The peak is behind us, and that's becoming clearer and clearer to builders and buyers."
"We're probably moving toward normalization," said Katharine Carroll, vice president at Pacific Union Real Estate in Palo Alto. "Buyers see that they have a few more options. They don't feel the urgency that they have to decide on something right away and put an offer in. They can kick the tires a little bit more."
http://www.bloomberg.com/news/articles/2016-05-17/silicon-valley-mansions-linger-on-market-in-real-estate-slowdown