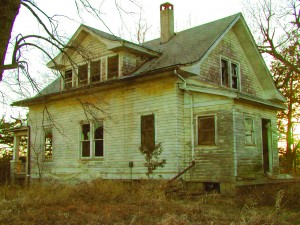 The finer points about disclosures.  An excerpt:
When preparing the Transfer Disclosure Statement, the seller sets forth any property defects they know or suspect to exist. Defects to be disclosed in the TDS include any conditions known to the seller which might negatively affect the value and desirability of the property for a prospective buyer, even though they may not be an item listed on the TDS. Thus, disclosures to the buyer are not limited to classic conditions preprinted for comment on the form. [CC §1102.8]
Further, the buyer cannot waive the seller's delivery of the statutorily-mandated TDS. Any attempted waiver, such as the use of an "as-is" clause in the purchase agreement, is unenforceable as against public policy. The words "as is" are never to be used in the context of real estate transactions.
"As is" implies a failure to disclose something adverse known to the seller or their agent, a prohibited activity. In contrast, "as disclosed" is the condition of the property as known by the buyer when the seller accepts their purchase agreement offer. [CC §1102.1(a)]
Thus, all buyers purchase property:
"as disclosed" by the seller, the seller's broker and the broker's agents; and
"as actually observed" by the buyer prior to entering into the purchase agreement.
~~~~~~~~~~~~~~~~~~~~~~~~~~~~~~~~~~~~~~~~~~~~~~~~~~~
Brokers and their agents who list one-to-four unit residential property have a duty to all prospective buyers, separate from the seller's, to timely disclose any physical aspects of a property:
– observable by the broker or their agent on a reasonable inspection of the property; and
– affecting the property's market value.
A buyer of a one-to-four unit residential property has two years from the close of escrow to pursue the seller's broker and agent to recover losses caused by the broker's or agent's negligent failure to disclose observable and known defects affecting the property's physical condition and value. Undisclosed and unknown defects permitting recovery by a buyer for the cost to cure the defect or loss of value are those observable by a reasonably competent broker during a visual on-site inspection. A seller's agent is expected to be as competent as their broker in an inspection. [CC §2079.4]
However, the buyer is unable to recover their losses from the seller's broker if the seller's broker or agent inspected the property as a reasonable competent broker, did not observe the defect and did not actually know it existed. [CC §1102.4(a)]
For more on seller disclosures and case law, click here:
http://journal.firsttuesday.us/brokerage-reminder-the-as-is-clause-instigating-negligent-failure-to-disclose/52170/