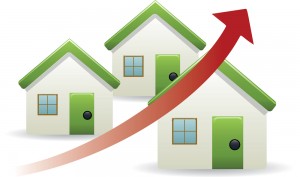 The hustle to move up the housing ladder is something people did when they were younger – and prices cheaper.  Those move-ups have gotten you here, and hey, it's not so bad – especially if it means that to replace your home, it costs two or three times more than you paid! 
Expect the housing-inventory stalemate to continue, regardless of how high prices get – people have no better place to go, they don't want to bother moving, and taxes plus expenses are outrageous.
http://www.realestateeconomywatch.com/2016/04/price-realities-are-blowing-away-forecasts/
This was supposed to be a year of "moderating" prices and a "return to normalcy."  Instead, upward price pressures have not abated, and red-faced economists are scrambling to crank up their forecasts as price trends at the outset of the buying season knock their protections into a cocked hat.
The culprit? Most forecasters predicted three years of rising prices would encourage more owners to sell, and supplies of homes for sale would catch up with demand, which is increasing as a result of the improving economy and continued low interest rates.