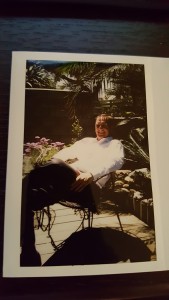 I stopped by to see Doug Harwood's new listing on Neptune on Wednesday.  Doug had his Fuji Instax camera, which is like the old Polaroid cameras that produce the photo right there so you can hand it off.
It made us ponder how the real estate selling game has changed over the years.
Much of the selling process is the same, and realtors like it like that.
Things that haven't changed much:
Open houses.
The back-and-forth negotiations.
 Listing agents trying to hustle up their own buyers for their new listings.
The Differences:
We both sang the praises of Docusign, the electronic-signature process.  This used to be a real night job, where I'd be spending hours at people's homes writing up listings and offers in person.  But now virtually all signing is done electronically.
No more fax machines. In the beginning, we wrote and signed contracts in person, and then hand-delivered them to the other agent – and sometimes got to present them to their clients. too.  Then the fax machine came out – and much like Docusign – everyone wondered if it was a legitimate contract if it was 'faxed'.
 It used to take a few days to get photos 'developed', and then distributed for flyers and MLS use. Now the digital photos are instantly sent.
 We used to have trouble with photo quality. Now with Photoshop, they are overly-enhanced!
 Newspaper advertising used to be a big deal – and agents used to complain about their company's ads not being big enough.
 I used to carry a briefcase of real estate forms in my trunk – and when I ran out, I was out of business. I've written two contracts in person in the last eight years.
 Remember the Montblanc pens?  I don't even carry pens any more.
 Up until recently, we collected a personal check from buyers for their good-faith deposit, and had to keep a hand-written record of trust funds. Now we don't touch money.
 On closing day, the escrow companies hand-delivered the commission checks to the brokerages (some still do). Then I would feel a sense of accomplishment by walking my check into the bank.  But now all money is wired – I haven't been inside a bank in years.
 We used to have a problem with storing all the files and documentation.  Now the old filing cabinets are just used to collect magnets.
 The camaraderie between agents played an important role in getting deals done.  But now there are so many agents and companies spread out that we are forced to create instant relationships.
 There is complete dependence on the mobile devices – email and text are more common than actually calling the other agent.  In fact, we have closed sales without ever actually speaking to the other agent.
It's not as personal as it used to be, but much more efficient!