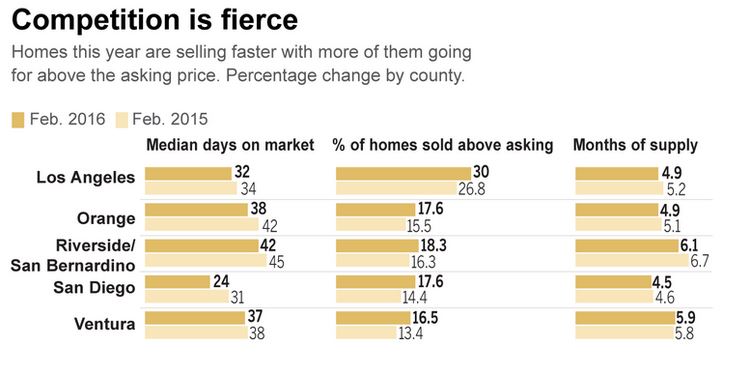 Some great quotes on the current market conditions:
http://www.latimes.com/business/realestate/la-fi-spring-market-20160328-story.html
The couple is looking for a home under $2 million, but they've found little suitable near a good public school. They've put in only two offers in the roughly six months they've been looking — and were unsuccessful both times.
This month, Lee, 32, went to a packed open house for a four-bedroom house in north Redondo Beach. It was so busy that the real estate agent ran out of fliers. She put in an offer for more than the $1-million asking price but lost. Instead, the home went into escrow to another buyer, less than a week after it was listed for sale.
In such a hot market, would-be sellers are conflicted about whether to cash in now or wait for prices to rise further. Some have begun to question how long the hot market can last.
"They think we are due for a correction," said Nikki Hochstein, an agent who specializes in the Westside and is helping the Lees find a home.
On a recent Sunday, about 150 people flocked to a three-bedroom condo in West L.A. for an open house, agent Tregg Rustad said.
Among the interested buyers were Sameena Shaikh, a medical researcher, and her husband, Muddassar, who works as a software engineer in Santa Monica.
The couple have been searching for a home for about a year but haven't pulled the trigger. In that time, they've seen prices rise and now fear mortgage rates will jump. As they surveyed the packed open house they vowed to be less picky.
"We don't want to make the same mistake," Sameena said.
Muddassar explained their new tactic: "Let's just buy something."
Read full article here:
http://www.latimes.com/business/realestate/la-fi-spring-market-20160328-story.html