Have you noticed that some listings aren't on the real estate portals?
There are two ways that it can happen.
There used to be an agreement between our MLS company, Sandicor, and Zillow/Trulia, to upload our listings automatically.  But as a result of a dispute between them over the last year, there is no auto-upload.  Some agents don't know that they have to manually upload their listings, or wait for their brokerage to do it for them.
That's the reason you'll see a listing on other portals but not Zillow/Trulia.
But some MLS listings aren't on any portals – even realtor.com.
How does that happen?  Below is a snip of the actual online listing input form.  The red Rs mean that they boxes are required to be completed, and the default answer is 'Yes':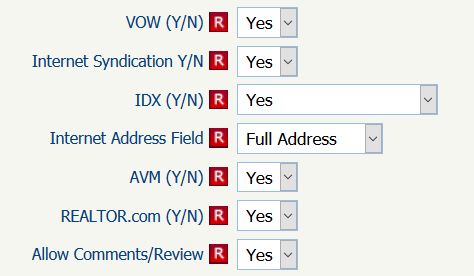 If you see a sign in a yard, or get a listing direct from the MLS and can't find it anywhere on the real estate portals, it means that the listing agent has clicked 'No' to several boxes to be excluded.  The agent has deliberately chosen out.
Back in 2012, Jim Abbott made waves about listing syndication (LINK), but he sold his company to Carrington earlier this year.  It looks like their listings are being syndicated now.
But there are still other holdouts.  If you are thinking of selling your home, a good question to be asking a potential listing agent, "Will my home be advertised on the real estate portals?"
Get Good Help!