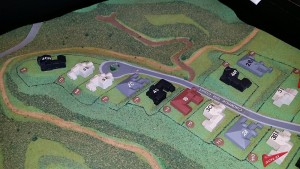 Two of the most successful new-home tracts in the history of Carmel Valley are winding down, and the demand has been impressive.
After 2.5 years, ADM is down to their last 13 homes plus the three models, and they still have 90 people on their priority list – and those had to qualify to get on the list.  This weekend, they are releasing ten homes, starting at $2 million. I love the strategy, because it sends a thrill throughout the entire list of people – everyone might have a shot to buy something!
Further out the 56 corridor – but still in the Del Mar School District – is Verana. In February, they opened the models to sell 78 homes around $1,000,000, and they are down to the last two phases plus a handful of stragglers; of which two or three back to the freeway.
Selling 78 million-dollar homes in less than a year is an incredible sales pace: