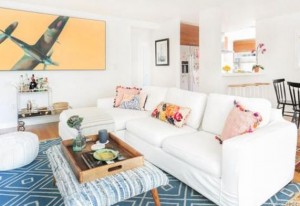 Hat tip to daytrip for sending this in:
http://www.bbc.com/capital/story/20150901-luxury-for-the-pinterest-crowd
For the Pinterest generation, which is used to browsing and pinning glamorous photos of home decor, showcasing their own magazine-worthy spaces online is now a must. And with good design easily accessible online on home decor sites such as Houzz.com, there's an increased interest in a DIY approach. Furniture and other items are also more easily sourced than ever before, as some start-ups now cater directly to the consumer by selling wares online that were once only available to the trade.
When Jen Bailey, 33, moved in with her boyfriend, she was eager to incorporate both of their ideas when decorating their new Los Angeles home. But they faced a challenge: Bailey's boyfriend held frequent American football parties, which didn't exactly mix with her sophisticated tastes.
"Having 15 guys over watching football [was our] design issue," Bailey said.
The couple turned to Laurel & Wolf, a one-year-old interior design start-up that allows customers to choose from at least four high-end interior designers who submit "first looks" of their ideas.
Customers choose the design they like and pay from $199 to $499 per room for design advice. Bailey and her boyfriend paid $299 for a package and communicated with their designer via an online platform that allowed them to chat and send photos during the process.
Call it high-style luxury for the masses.
Read full article here:
http://www.bbc.com/capital/story/20150901-luxury-for-the-pinterest-crowd