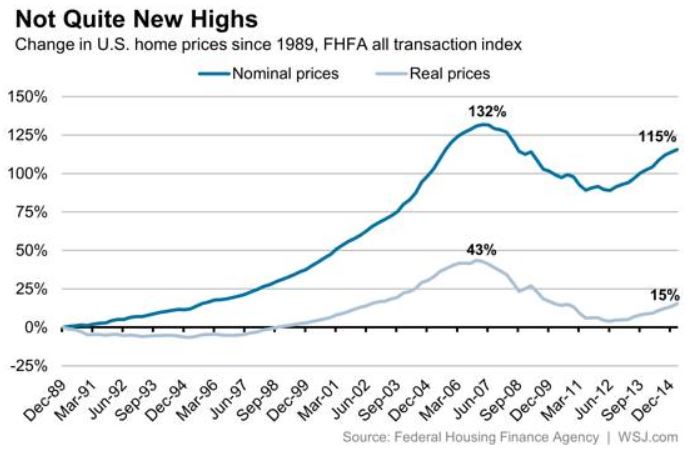 I tweeted this last week but Nick re-tweeted today so it must be pertinent to something.  Note his comment section too:
http://blogs.wsj.com/economics/2015/07/28/are-home-prices-again-breaking-records-not-really/
An excerpt:
Median prices of new homes have hit records, both in real and nominal terms. This also reflects the mix of sales: Home builders are selling fewer than half as many homes as they were in 2006, when the old records were reached. Instead, they are selling a much larger share of luxury homes with bigger floor plans than before, which has pushed the median price higher and higher.
The Federal Housing Finance Agency's repeat-sales index is unit-weighted, so that inexpensive homes sold in Kansas count the same as pricier ones in California.  The FHFA index shows prices are around 7% below their prior high, but adjusted for inflation, they're around 19% lower.
Read full article here:
http://blogs.wsj.com/economics/2015/07/28/are-home-prices-again-breaking-records-not-really/