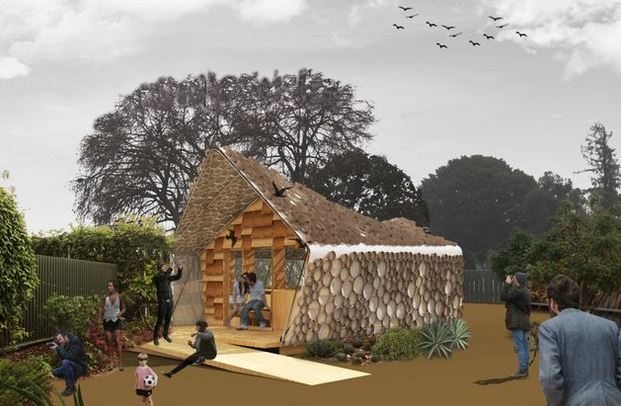 A team at UCLA had designed an accessory dwelling unit for the backyard:
"Today, we don't have enough affordable housing, and, given the hotter, drier climate, we're losing environment to support all kinds of species. So there's an environmental crisis that corresponds to a housing crisis," Cuff said. "These imperatives are something we can begin to solve — and where better to do that than at UCLA where we have an incredible trove of expertise, creativity and unbelievable students. What's completely unique about this house is that it will add to the environment — the biome —rather than detract from it."
The watertight house, built of plastic sheeting shrink-wrapped over a framework of electrical conduit pipes, is so lightweight that the structure can sit on jacks around which a rock foundation, known as a gabion, would wrap. All of the building materials can be hand-carried on site and assembled by two people. The floor and end walls at the front and back of the house are built of wood, with openings for light and ventilation. On the outside of the house, large cardboard tubes, equipped with LED lights, line the plastic-sheet walls and roof to give the structure an ultra-modern look. Another layer of plastic sheeting will then go over the tubes to protect them from rain.
The final design shows a small wooden deck in front with a bench that slides in and out of the structure. And while the basic model being built at the Broad center won't have all the amenities, the house is intended to have a compact kitchen, with a system for collecting gray water for the plants; a compostable toilet; and, instead of plastic sheeting used in the prototype, fabric in which solar cells are embedded to run the house on solar power.
"It's reversible — you don't have to destroy your backyard to build it — recyclable and environmentally efficient," Cuff said. The project also was reviewed by a structural engineer, who volunteered his services. "Environmentally, it's between 10 and 100 times more efficient to construct than a conventional house, mainly because it's so light."
Read full article HERE.