From jbrec.com:
We now monitor domestic migration trends in near real time, using postal address change forms that are current within a few months. This data has given us far more conviction in expressing a positive demand outlook on 15 markets and a more cautious outlook on another 15 markets, as shown below. This data excludes international migration.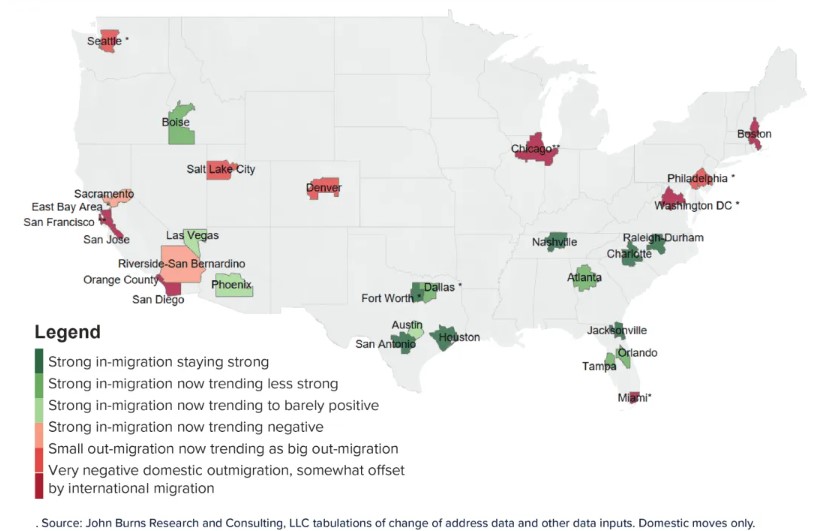 The winners: Strong housing demand
Strong migration continues in:
Houston
Jacksonville
Charlotte
San Antonio
Fort Worth
Nashville
Previously strong migration is now trending less strong than one year ago in:
Dallas
Atlanta
Tampa
Boise
Orlando
Raleigh-Durham
Previously strong migration is now trending to barely positive migration in:
Phoenix
Austin
Las Vegas
The losers: Weak housing demand
Previously strong in-migration is now trending negatively in:
Sacramento
Riverside-San Bernardino
Previously small out-migration is now trending as a big out-migration in:
Denver
Salt Lake
Philadelphia
Seattle

Very negative domestic out-migration continues, which is likely somewhat offset by strong international migration, in:
East Bay Area
Orange County
San Diego
San Jose
Miami
Washington, DC
Boston
Chicago
San Francisco
https://jbrec.com/insights/real-time-migration-data-30-winners-and-losers/
Do we need to label areas as winners and losers? The migration trends are heavily influenced by the cost of housing, and it's no surprise that the most-expensive areas are having the most people leave – which will leave those areas even more exclusive and affluent.
You can blame politics, taxes, etc. as reasons for the moves, but is comes down to this:
Rich people are staying, and not-so-rich people are leaving – and that's ok.