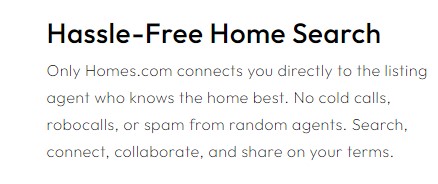 Between the lawsuits that will decouple commissions and homes.com that funnels all inquiries back to the listing agent, the buyer-agents are cooked. It's just a matter of time.
Hat tip to RE News – an excerpt:
Florance also detailed his vision for Homes.com, which he believes can serve the interests of consumers and agents in ways that other residential listings sites do not.
"I've used some of these competing sites myself and submitted leads on properties I'm interested in. The experience is remarkably awful," Florance said. "The moment you submit a lead and for months afterwards, you're bombarded with cold calls from countless agents who have questionable qualifications."
He said the agent experience is also lacking. "The competing models use all the agents' listings in a market to funnel monetize leads to just a very small percentage of agents."
Florance also made the case that there is plenty of opportunity to provide a more seamless online set of tools for agents while cultivating a residential real estate space for consumers serious about buying and selling homes. "While other sites are injecting their agents into the homebuyers' search experience somewhat awkwardly, we offer a friction-free environment connecting buyers directly to the listing agents," he told investors.
Consumers can collaborate with their agent directly using the Homes.com platform. "Our agent collaboration tools are up and running. We've had tremendous feedback from both agents and consumers," Florance said.
"We're presenting consumers with hundreds of thousands of highly qualified potential buyer agents for free based upon those buyer agent skills and experiences rather based on how much the buyer agent is willing to give up in commission to the portal," Florance said. He predicted that the company will start monetizing the site later this year.
"Not only do we believe we offer a superior consumer experience for buyers, we also believe we are much better aligned with real estate agents," Florance said.
Link to Full Article about Homes.com