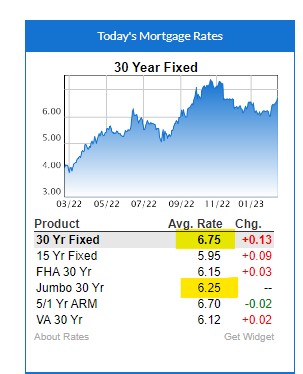 The mortgage rates are heading for 7% again, which is shocking, given it was 5.99% on Feb. 2nd.
Higher rates will discourage both buyers and sellers, and make them want to wait for a "better market" some day in the future.  Whether that day will come isn't considered – all they know is that it isn't today.
It should mean that the market will be cleared of any casualness, and only the highly motivated buyers and sellers will be engaging. Buyers will be more picky, and sellers will need to be sharp on price.
How sharp?
It will be different in each neighborhood, but I'll give you one example.
After I set the market on fire in Encinitas Ranch at the end of 2021, this one-story house went for sale. It got bid up a million over the list price (which was deliberately set low by the seller), and the buyer paid cash:

I think the buyer passed away, unfortunately, and the house is coming back on the market.
Today's list price, just a year after purchase? $2,900,000.
It is possible that 2023 is going to be as good as it gets for sellers – at least for the next few years. The Fed is adamant about crushing the economy, and we could see mortgage rates well into the 7s and, dare I say, we might be pushing 8% mortgages by summer.
The number of sales will be lower than ever, which means more volatility.  It will be wild and crazy for some, and that might be entertaining for the casual participants but it won't draw them off the sidelines.
The higher the mortgage rates go, the less volume there will be and some markets could freeze up.
And this could be as good as it gets for a while – yippee!