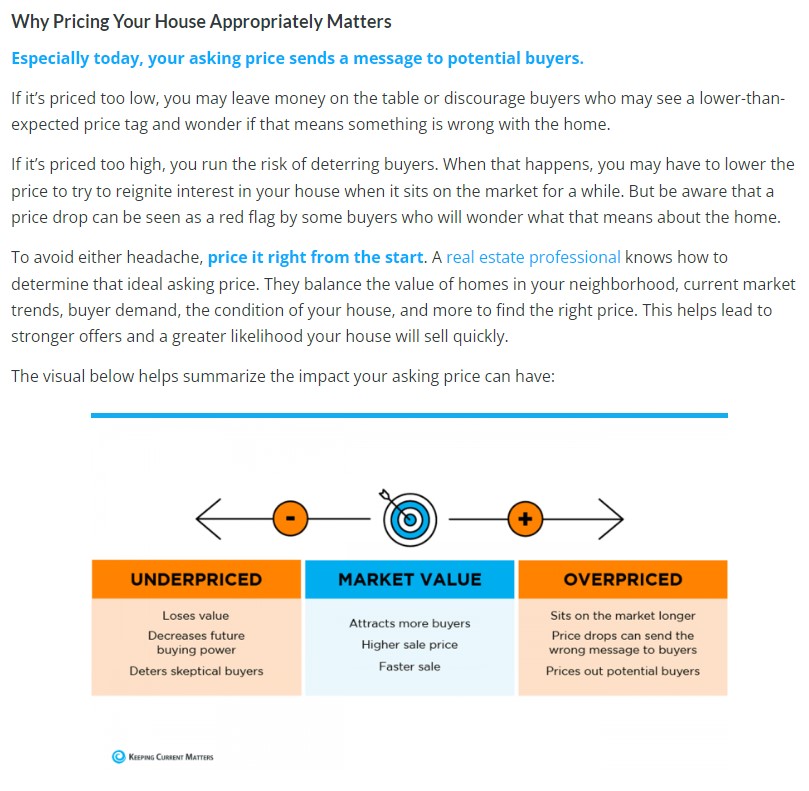 KCM is a fine group of people who supply realtors with content for them to publish in their newsletters, social media, etc. They provide an invaluable service for the agents who'd rather just pay for content than create it themselves. It tends to be a softer version of what I do here at bubbleinfo.com because most realtors aren't interested in a deep dive – they are fine with the lightweight stuff.
But because I said last week that "price it right" is code for listing your home for the realtor's price, I thought I should comment on the above.
UNDERPRICED – The fear of underpricing your home and leaving money on the table is real….if you list with an agent who just wants to take the first offer and go back to sleep.  When you list your home with an agent like me and the market responds favorably, I will let EVERY buyer compete for your home and then pit them against one another to drive the price up.
OVERPRICED – Realtors want to be the hero and are just as likely to overprice a home as a seller. This is especially true when several agents are competing for the listing – it is irresistible for sellers to strongly consider, and end up hiring, the agent who quotes the highest price.
The worst part about overpricing is not reacting quick enough.  Once a home is on the open market, both the sellers and the listing agent wants to believe that if they just wait a little longer, the magical perfect couple with 2.2 kids will come along. But today's buyers are watching the market time of each listing very closely, and making up things in their head about what it means – and none of that is good for sellers.
MARKET VALUE – It would be a miracle if a seller or agent could guess the market value.  The conditions are changing every day in every area – and NOBODY knows what a buyer will pay until a home is on the open market. Besides, there is a slush factor of 5% on every house, based on it's unique location, upgrades and condition, ease of showing, and the competence of the listing agent.
The best thing any seller could do is to hire a listing agent who is an expert in handling what to do if the market conditions cause the home to be underpriced OR overpriced – because every agent can handle a listing that gets lucky and miraculously happens to be perfectly priced.