There's a big difference between low offers, and no offers.
If you are getting low offers, you probably didn't fix it up enough.
No problem, you figured you'd have to sell it for less, didn't you? Expect that buyers will want a discount that will be 2x the actual cost of repairs/improvements, because it will be a hassle for them too. Whoever does the work deserves to be compensated for the time-and-hassle factor.
If you aren't getting any offers, well then that's different. Your price is wrong.
I know, I know…..what does it hurt to start a little high? You can always come down later, right? Unless a neighbor beats you to it, which can leave you hung out to dry.
Think of what happened in Carmel Valley when the active listing down the street lowered their list price from $1,750,000 to $1,650,000. My listing was superior in almost every way, so when I came on at $1,599,000, mine was the obvious deal.
I still helped them out by closing two weeks later for $1,660,000, but only because I recognized that somebody had to stop the bleeding. Look at how the others that sold had been bludgeoned on price after testing the market for weeks: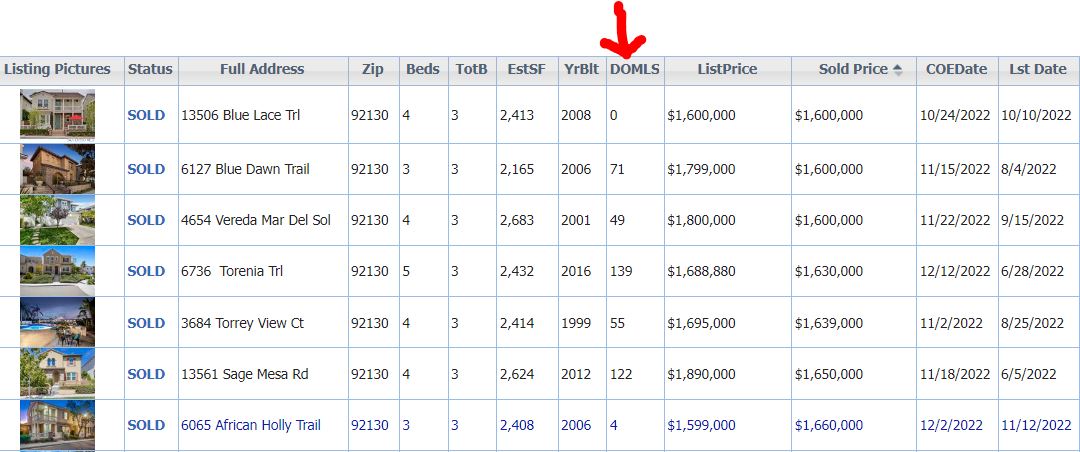 If you are getting no offers, you should react quickly and get in the game by lowering your price – before someone else beats you to it. Once a home is on the market for 30+ days, they are going to get low offers.
You can't count on the one who submarines you to be so good at this that they will start a bidding war and sell it for more.  If theirs sells for less, where does that leave you?  Higher and drier.