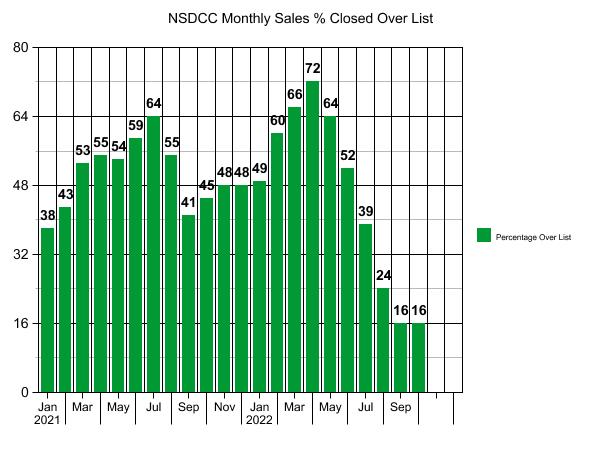 ~~~~~~~~~~~~~~~~~~~~~~~~~~~~~~~~~~~~~~~~~~~~~~~~~~~
~~~~~~~~~~~~~~~~~~~~~~~~~~~~~~~~~~~~~~~~~~~~~~~~~~~
NSDCC Average and Median Prices by Month
| | | | | | |
| --- | --- | --- | --- | --- | --- |
| Month | # of Sales | Avg. LP | Avg. SP | Median LP | Median SP |
| Feb | 224 | $2,298,797 | $2,257,334 | $1,719,500 | $1,758,000 |
| March | 252 | $2,295,629 | $2,260,524 | $1,800,000 | $1,825,000 |
| April | 357 | $2,396,667 | $2,403,962 | $1,799,900 | $1,828,000 |
| May | 300 | $2,596,992 | $2,581,715 | $1,900,000 | $1,994,500 |
| June | 348 | $2,509,175 | $2,537,953 | $1,900,000 | $1,967,500 |
| July | 311 | $2,421,326 | $2,442,738 | $1,795,000 | $1,855,000 |
| Aug | 268 | $2,415,075 | $2,438,934 | $1,897,000 | $1,950,000 |
| Sept | 278 | $2,479,440 | $2,445,817 | $1,899,000 | $1,987,500 |
| Oct | 248 | $2,754,470 | $2,705,071 | $1,899,000 | $1,899,500 |
| Nov | 199 | $2,713,693 | $2,707,359 | $1,999,000 | $2,100,000 |
| Dec | 189 | $2,686,126 | $2,664,391 | $1,985,000 | $2,157,500 |
| Jan | 140 | $2,828,988 | $2,855,213 | $2,234,944 | $2,240,000 |
| Feb | 158 | $3,063,331 | $3,108,907 | $2,149,500 | $2,386,500 |
| Mar | 207 | $3,247,251 | $3,337,348 | $2,400,000 | $2,625,000 |
| Apr | 227 | $3,190,161 | $3,251,604 | $2,350,000 | $2,550,000 |
| May | 215 | $2,943,657 | $3,032,977 | $2,350,000 | $2,500,000 |
| Jun | 190 | $2,864,089 | $2,872,690 | $2,297,500 | $2,350,000 |
| Jul | 155 | $2,889,612 | $2,832,080 | $2,299,900 | $2,300,000 |
| Aug | 164 | $2,933,243 | $2,830,855 | $2,200,000 | $2,150,000 |
| Sep | 135 | $2,650,642 | $2,560,314 | $2,149,000 | $2,040,000 |
| Oct | 124 | $3,090,320 | $2,971,211 | $2,272,500 | $2,212,500 |
OMG – the average & median sales prices went up!
Does that mean home prices went up?
NONONONO!
It means the set of homes that closed escrow in October happen to produce higher numbers because they were larger (October median sf was +12%) and more attractive than the group in September.