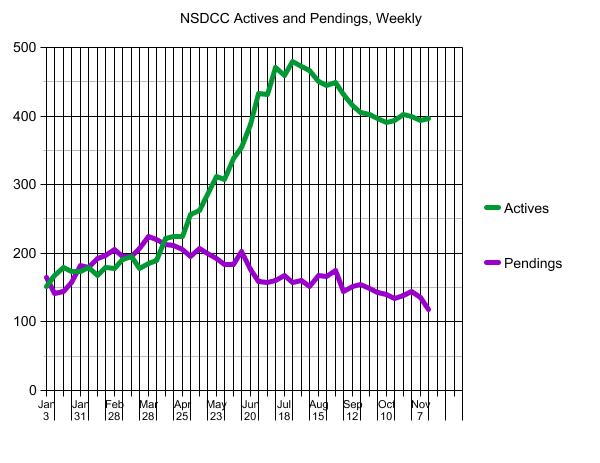 In the graph above, the active inventory hasn't been decreasing like I thought it would be, given that Thanksgiving is a week and a half away. You can't say that nothing is selling, because there have been 50 closings between La Jolla and Carlsbad in November so far, which should keep the final monthly-sales count around the 100 as expected.
So I checked the Actives counts during pre-holiday season from the last few years, and in particular, the drop in active listings between the first week of October and mid-November:
The percentage of decline between the first week of October and mid-November:
2018: -3%
2019: -11%
2020: -12%
2021: -18%
2022:  -0-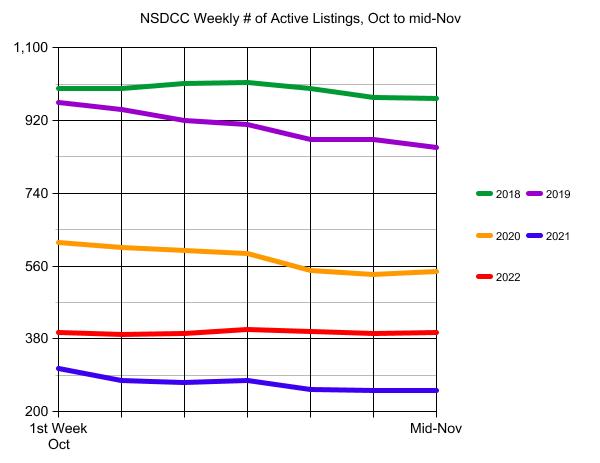 Comparing to last year, the hottest market in history with the lowest rates ever, will look wildly negative.  In 2021, the market was still cooking in the fourth quarter, so the drop in actives had as much to do with everything selling, as it did with sellers packing it in for the holidays.
But compare today's inventory to previous years.  The pandemic count in 2020 was 547 actives in mid-November, and we're 28% lower than that today!
The number of actives may not be dropping this year, and it means only one thing.
The sellers who are on the open market today have to be motivated to sell now, otherwise they would have given up and waited for the 2023 Spring Selling Season.  Future sellers will probably be similarly motivated, because it should be obvious to everyone that selling for your aspirational price is much more difficult than it used to be – and the casual sellers will decide to wait for a 'better market'.
The $0 – $1,500,000 Market:
| | | | | |
| --- | --- | --- | --- | --- |
| Date | NSDCC Active Listings | Avg. LP/sf | Avg. DOM | # of Pendings |
| Jan 3, 2022 | 9 | $832/sf | 35 | 36 |
| Jan 10 | 9 | $766/sf | 28 | 29 |
| Jan 17 | 13 | $773/sf | 26 | 27 |
| Jan 24 | 9 | $818/sf | 15 | 29 |
| Jan 31 | 14 | $752/sf | 14 | 31 |
| Feb 7 | 13 | $774/sf | 12 | 32 |
| Feb 14 | 11 | $826/sf | 12 | 35 |
| Feb 21 | 7 | $889/sf | 17 | 38 |
| Feb 28 | 12 | $888/sf | 17 | 33 |
| Mar 7 | 9 | $1,017/sf | 21 | 33 |
| Mar 14 | 14 | $847/sf | 18 | 31 |
| Mar 21 | 8 | $912/sf | 26 | 36 |
| Mar 28 | 10 | $914/sf | 25 | 28 |
| Apr 4 | 10 | $782/sf | 33 | 34 |
| Apr 11 | 19 | $733/sf | 21 | 36 |
| Apr 18 | 16 | $795/sf | 28 | 34 |
| Apr 25 | 18 | $891/sf | 27 | 30 |
| May 2 | 22 | $822/sf | 23 | 31 |
| May 9 | 24 | $887/sf | 17 | 46 |
| May 16 | 25 | $783/sf | 22 | 25 |
| May 23 | 29 | $782/sf | 23 | 29 |
| May 30 | 30 | $782/sf | 24 | 28 |
| Jun 6 | 34 | $763/sf | 25 | 28 |
| Jun 13 | 33 | $802/sf | 29 | 29 |
| Jun 20 | 48 | $774/sf | 28 | 22 |
| Jun 27 | 43 | $755/sf | 32 | 22 |
| Jul 4 | 49 | $757/sf | 33 | 23 |
| Jul 11 | 56 | $757/sf | 35 | 22 |
| Jul 18 | 51 | $741/sf | 38 | 24 |
| Jul 25 | 53 | $755/sf | 38 | 22 |
| Aug 1 | 46 | $736/sf | 36 | 29 |
| Aug 8 | 43 | $746/sf | 41 | 32 |
| Aug 15 | 37 | $775/sf | 37 | 34 |
| Aug 22 | 36 | $766/sf | 41 | 33 |
| Aug 29 | 34 | $750/sf | 40 | 39 |
| Sep 5 | 28 | $717/sf | 50 | 31 |
| Sep 12 | 31 | $736/sf | 52 | 29 |
| Sep 19 | 32 | $753/sf | 36 | 27 |
| Sep 26 | 31 | $726/sf | 39 | 28 |
| Oct 3 | 34 | $733/sf | 34 | 22 |
| Oct 10 | 30 | $729/sf | 36 | 27 |
| Oct 17 | 36 | $725/sf | 36 | 23 |
| Oct 24 | 39 | $723/sf | 39 | 24 |
| Oct 31 | 39 | $732/sf | 38 | 24 |
| Nov 7 | 40 | $782/sf | 39 | 25 |
| Nov 14 | 48 | $742/sf | 41 | 20 |
The $1,500,000 – $2,000,000 Market:
| | | | | |
| --- | --- | --- | --- | --- |
| Date | NSDCC Active Listings | Avg. LP/sf | Avg. DOM | # of Pendings |
| Jan 3, 2022 | 8 | $842/sf | 52 | 36 |
| Jan 10 | 13 | $751/sf | 28 | 29 |
| Jan 17 | 16 | $736/sf | 33 | 27 |
| Jan 24 | 16 | $801/sf | 17 | 27 |
| Jan 31 | 15 | $696/sf | 14 | 34 |
| Feb 7 | 15 | $765/sf | 17 | 34 |
| Feb 14 | 10 | $726/sf | 19 | 38 |
| Feb 21 | 19 | $715/sf | 15 | 39 |
| Feb 28 | 9 | $660/sf | 12 | 46 |
| Mar 7 | 16 | $789/sf | 15 | 46 |
| Mar 14 | 17 | $837/sf | 8 | 44 |
| Mar 21 | 18 | $867/sf | 11 | 43 |
| Mar 28 | 14 | $838/sf | 15 | 48 |
| Apr 4 | 18 | $762/sf | 25 | 42 |
| Apr 11 | 23 | $774/sf | 15 | 39 |
| Apr 18 | 22 | $792/sf | 17 | 41 |
| Apr 25 | 18 | $810/sf | 20 | 41 |
| May 2 | 27 | $809/sf | 17 | 37 |
| May 9 | 33 | $837/sf | 17 | 46 |
| May 16 | 39 | $793/sf | 19 | 44 |
| May 23 | 43 | $793/sf | 22 | 44 |
| May 30 | 36 | $843/sf | 23 | 36 |
| Jun 6 | 43 | $817/sf | 23 | 41 |
| Jun 13 | 49 | $845/sf | 24 | 42 |
| Jun 20 | 57 | $817/sf | 24 | 41 |
| Jun 27 | 75 | $807/sf | 24 | 35 |
| Jul 4 | 70 | $827/sf | 27 | 33 |
| Jul 11 | 71 | $812/sf | 30 | 38 |
| Jul 18 | 74 | $793/sf | 32 | 35 |
| Jul 25 | 83 | $787/sf | 34 | 29 |
| Aug 1 | 81 | $780/sf | 35 | 31 |
| Aug 8 | 76 | $796/sf | 40 | 30 |
| Aug 15 | 80 | $789/sf | 42 | 38 |
| Aug 22 | 78 | $801/sf | 46 | 38 |
| Aug 29 | 81 | $811/sf | 51 | 40 |
| Sep 5 | 82 | $795/sf | 50 | 31 |
| Sep 12 | 78 | $796/sf | 53 | 29 |
| Sep 19 | 73 | $818/sf | 47 | 34 |
| Sep 26 | 75 | $795/sf | 45 | 33 |
| Oct 3 | 75 | $826/sf | 42 | 31 |
| Oct 10 | 69 | $853/sf | 45 | 27 |
| Oct 17 | 73 | $841/sf | 46 | 22 |
| Oct 24 | 72 | $857/sf | 45 | 27 |
| Oct 31 | 74 | $837/sf | 51 | 37 |
| Nov 7 | 69 | $840/sf | 51 | 37 |
| Nov 14 | 65 | $832/sf | 58 | 36 |
The $2,000,000 – $3,000,000 Market:
| | | | | |
| --- | --- | --- | --- | --- |
| Date | NSDCC Active Listings | Avg. LP/sf | Avg. DOM | # of Pendings |
| Jan 3, 2022 | 18 | $1,080/sf | 127 | 43 |
| Jan 10 | 23 | $1,038/sf | 85 | 37 |
| Jan 17 | 26 | $1,044/sf | 80 | 41 |
| Jan 24 | 28 | $1,015/sf | 37 | 42 |
| Jan 31 | 22 | $949/sf | 38 | 47 |
| Feb 7 | 26 | $919/sf | 29 | 42 |
| Feb 14 | 22 | $997/sf | 37 | 49 |
| Feb 21 | 21 | $966/sf | 33 | 54 |
| Feb 28 | 26 | $905/sf | 32 | 57 |
| Mar 7 | 29 | $922/sf | 28 | 57 |
| Mar 14 | 20 | $852/sf | 26 | 58 |
| Mar 21 | 17 | $928/sf | 26 | 60 |
| Mar 28 | 34 | $927/sf | 12 | 65 |
| Apr 4 | 32 | $927/sf | 20 | 69 |
| Apr 11 | 44 | $910/sf | 17 | 62 |
| Apr 18 | 48 | $997/sf | 19 | 66 |
| Apr 25 | 42 | $1,092/sf | 18 | 73 |
| May 2 | 54 | $995/sf | 19 | 70 |
| May 9 | 61 | $910/sf | 20 | 73 |
| May 16 | 64 | $977/sf | 22 | 69 |
| May 23 | 82 | $953/sf | 25 | 59 |
| May 30 | 78 | $951/sf | 27 | 56 |
| Jun 6 | 94 | $963/sf | 27 | 58 |
| Jun 13 | 98 | $961/sf | 28 | 70 |
| Jun 20 | 91 | $935/sf | 32 | 59 |
| Jun 27 | 111 | $894/sf | 30 | 60 |
| Jul 4 | 112 | $910/sf | 33 | 60 |
| Jul 11 | 122 | $912/sf | 34 | 56 |
| Jul 18 | 103 | $893/sf | 39 | 68 |
| Jul 25 | 108 | $883/sf | 40 | 63 |
| Aug 1 | 110 | $887/sf | 41 | 58 |
| Aug 8 | 124 | $941/sf | 39 | 50 |
| Aug 15 | 114 | $945/sf | 45 | 51 |
| Aug 22 | 123 | $948/sf | 42 | 46 |
| Aug 29 | 125 | $938/sf | 46 | 45 |
| Sep 5 | 116 | $948/sf | 48 | 38 |
| Sep 12 | 110 | $908/sf | 49 | 43 |
| Sep 19 | 108 | $928/sf | 50 | 46 |
| Sep 26 | 106 | $926/sf | 51 | 45 |
| Oct 3 | 103 | $941/sf | 50 | 46 |
| Oct 10 | 109 | $987/sf | 50 | 42 |
| Oct 17 | 103 | $969/sf | 50 | 45 |
| Oct 24 | 100 | $953/sf | 52 | 51 |
| Oct 31 | 100 | $961/sf | 53 | 50 |
| Nov 7 | 97 | $960/sf | 54 | 47 |
| Nov 14 | 97 | $970/sf | 51 | 38 |
The $3,000,000 – $4,000,000 Market:
| | | | | |
| --- | --- | --- | --- | --- |
| Date | NSDCC Active Listings | Avg. LP/sf | Avg. DOM | # of Pendings |
| Jan 3, 2022 | 19 | $1,230/sf | 90 | 26 |
| Jan 10 | 22 | $1,210/sf | 76 | 25 |
| Jan 17 | 19 | $1,207/sf | 86 | 23 |
| Jan 24 | 17 | $1,129/sf | 92 | 24 |
| Jan 31 | 21 | $1,172/sf | 70 | 22 |
| Feb 7 | 19 | $1,169/sf | 67 | 25 |
| Feb 14 | 19 | $1,234/sf | 65 | 28 |
| Feb 21 | 21 | $1,279/sf | 69 | 28 |
| Feb 28 | 22 | $1,214/sf | 64 | 25 |
| Mar 7 | 27 | $1,295/sf | 60 | 24 |
| Mar 14 | 27 | $1,201/sf | 65 | 27 |
| Mar 21 | 23 | $1,282/sf | 69 | 31 |
| Mar 28 | 25 | $1,253/sf | 67 | 30 |
| Apr 4 | 30 | $1,199/sf | 61 | 27 |
| Apr 11 | 32 | $1,174/sf | 62 | 31 |
| Apr 18 | 33 | $1,216/sf | 68 | 31 |
| Apr 25 | 33 | $1,219/sf | 63 | 33 |
| May 2 | 37 | $1,164/sf | 50 | 36 |
| May 9 | 33 | $1,132/sf | 57 | 32 |
| May 16 | 40 | $1,119/sf | 53 | 32 |
| May 23 | 40 | $1,135/sf | 57 | 27 |
| May 30 | 40 | $1,178/sf | 61 | 28 |
| Jun 6 | 43 | $1,224/sf | 56 | 28 |
| Jun 13 | 48 | $1,184/sf | 52 | 28 |
| Jun 20 | 52 | $1,117/sf | 53 | 26 |
| Jun 27 | 60 | $1,120/sf | 51 | 19 |
| Jul 4 | 55 | $1,127/sf | 58 | 23 |
| Jul 11 | 68 | $1,140/sf | 47 | 26 |
| Jul 18 | 66 | $1,206/sf | 52 | 25 |
| Jul 25 | 65 | $1,200/sf | 54 | 26 |
| Aug 1 | 59 | $1,191/sf | 60 | 26 |
| Aug 8 | 58 | $1,209/sf | 63 | 22 |
| Aug 15 | 59 | $1,166/sf | 62 | 21 |
| Aug 22 | 57 | $1,163/sf | 60 | 28 |
| Aug 29 | 53 | $1,168/sf | 64 | 31 |
| Sep 5 | 48 | $1,157/sf | 67 | 25 |
| Sep 12 | 50 | $1,215/sf | 67 | 27 |
| Sep 19 | 46 | $1,196/sf | 74 | 26 |
| Sep 26 | 42 | $1,200/sf | 82 | 20 |
| Oct 3 | 42 | $1,216/sf | 78 | 20 |
| Oct 10 | 38 | $1,154/sf | 62 | 18 |
| Oct 17 | 34 | $1,171/sf | 73 | 20 |
| Oct 24 | 41 | $1,148/sf | 69 | 14 |
| Oct 31 | 36 | $1,110/sf | 79 | 14 |
| Nov 7 | 37 | $1,100/sf | 76 | 9 |
| Nov 14 | 39 | $1,114/sf | 77 | 6 |
The $4,000,000+ Market:
| | | | | |
| --- | --- | --- | --- | --- |
| Date | NSDCC Active Listings | Avg. LP/sf | Avg. DOM | # of Pendings |
| Jan 3, 2022 | 100 | $1,884/sf | 128 | 30 |
| Jan 10 | 105 | $1,864/sf | 113 | 29 |
| Jan 17 | 109 | $1,763/sf | 110 | 34 |
| Jan 24 | 105 | $2,130/sf | 114 | 42 |
| Jan 31 | 102 | $2,114/sf | 118 | 53 |
| Feb 7 | 109 | $2,000/sf | 108 | 50 |
| Feb 14 | 108 | $2,005/sf | 109 | 47 |
| Feb 21 | 113 | $2,008/sf | 103 | 43 |
| Feb 28 | 111 | $1,991/sf | 101 | 47 |
| Mar 7 | 115 | $1,904/sf | 91 | 39 |
| Mar 14 | 121 | $1,893/sf | 95 | 43 |
| Mar 21 | 116 | $1,905/sf | 97 | 44 |
| Mar 28 | 104 | $1,966/sf | 97 | 59 |
| Apr 4 | 103 | $1,929/sf | 97 | 56 |
| Apr 11 | 106 | $1,906/sf | 97 | 55 |
| Apr 18 | 108 | $1,874/sf | 100 | 51 |
| Apr 25 | 116 | $1,829/sf | 97 | 38 |
| May 2 | 117 | $1,781/sf | 95 | 32 |
| May 9 | 116 | $1,831/sf | 96 | 36 |
| May 16 | 124 | $1,854/sf | 91 | 39 |
| May 23 | 125 | $1,855/sf | 92 | 36 |
| May 30 | 129 | $1,706/sf | 93 | 39 |
| Jun 6 | 131 | $1,740/sf | 89 | 33 |
| Jun 13 | 132 | $1,793/sf | 86 | 38 |
| Jun 20 | 148 | $1,772/sf | 84 | 35 |
| Jun 27 | 153 | $1,779/sf | 87 | 29 |
| Jul 4 | 155 | $1,777/sf | 82 | 25 |
| Jul 11 | 164 | $1,759/sf | 85 | 26 |
| Jul 18 | 170 | $1,740/sf | 86 | 26 |
| Jul 25 | 178 | $1,701/sf | 84 | 27 |
| Aug 1 | 180 | $1,696/sf | 85 | 28 |
| Aug 8 | 173 | $1,715/sf | 91 | 24 |
| Aug 15 | 168 | $1,746/sf | 89 | 32 |
| Aug 22 | 160 | $1,718/sf | 92 | 29 |
| Aug 29 | 165 | $1,732/sf | 93 | 28 |
| Sep 5 | 162 | $1,745/sf | 95 | 26 |
| Sep 12 | 152 | $1,715/sf | 96 | 29 |
| Sep 19 | 155 | $1,727/sf | 97 | 28 |
| Sep 26 | 157 | $1,728/sf | 97 | 27 |
| Oct 3 | 150 | $1,701/sf | 96 | 27 |
| Oct 10 | 153 | $1,711/sf | 103 | 29 |
| Oct 17 | 152 | $1,675/sf | 101 | 25 |
| Oct 24 | 156 | $1,697/sf | 102 | 24 |
| Oct 31 | 157 | $1,701/sf | 107 | 22 |
| Nov 7 | 156 | $1,682/sf | 109 | 22 |
| Nov 14 | 154 | $1,680/sf | 113 | 22 |
NSDCC Weekly New Listings and New Pendings
| | | | | |
| --- | --- | --- | --- | --- |
| Week | New Listings | New Pendings | Total Actives | Total Pendings |
| Jan 3, 2022 | 17 | 14 | 152 | 164 |
| Jan 10 | 39 | 18 | 167 | 142 |
| Jan 17 | 34 | 29 | 179 | 145 |
| Jan 24 | 41 | 40 | 173 | 157 |
| Jan 31 | 43 | 40 | 173 | 182 |
| Feb 7 | 43 | 38 | 179 | 179 |
| Feb 14 | 44 | 49 | 168 | 193 |
| Feb 21 | 51 | 38 | 180 | 197 |
| Feb 28 | 39 | 39 | 179 | 205 |
| Mar 7 | 54 | 37 | 191 | 195 |
| Mar 14 | 48 | 51 | 195 | 196 |
| Mar 21 | 39 | 46 | 178 | 207 |
| Mar 28 | 53 | 50 | 185 | 224 |
| Apr 4 | 46 | 40 | 190 | 220 |
| Apr 11 | 61 | 39 | 221 | 213 |
| Apr 18 | 41 | 46 | 224 | 212 |
| Apr 25 | 50 | 43 | 224 | 205 |
| May 2 | 76 | 37 | 256 | 196 |
| May 9 | 59 | 46 | 262 | 207 |
| May 16 | 78 | 48 | 286 | 200 |
| May 23 | 61 | 42 | 312 | 192 |
| May 30 | 54 | 44 | 307 | 183 |
| Jun 6 | 70 | 31 | 338 | 183 |
| Jun 13 | 60 | 41 | 354 | 202 |
| Jun 20 | 71 | 25 | 388 | 177 |
| Jun 27 | 73 | 26 | 433 | 159 |
| Jul 4 | 55 | 39 | 432 | 158 |
| Jul 11 | 55 | 24 | 471 | 161 |
| Jul 18 | 49 | 35 | 459 | 168 |
| Jul 25 | 60 | 20 | 480 | 158 |
| Aug 1 | 55 | 35 | 473 | 161 |
| Aug 8 | 40 | 32 | 466 | 151 |
| Aug 15 | 51 | 32 | 451 | 168 |
| Aug 22 | 43 | 29 | 445 | 166 |
| Aug 29 | 43 | 27 | 449 | 175 |
| Sep 5 | 31 | 22 | 432 | 144 |
| Sep 12 | 38 | 22 | 415 | 151 |
| Sep 19 | 45 | 26 | 405 | 155 |
| Sep 26 | 45 | 27 | 402 | 149 |
| Oct 3 | 46 | 19 | 396 | 143 |
| Oct 10 | 40 | 26 | 391 | 140 |
| Oct 17 | 37 | 19 | 393 | 134 |
| Oct 24 | 50 | 26 | 402 | 139 |
| Oct 31 | 26 | 19 | 399 | 144 |
| Nov 7 | 37 | 16 | 393 | 136 |
| Nov 14 | 36 | 16 | 396 | 118 |