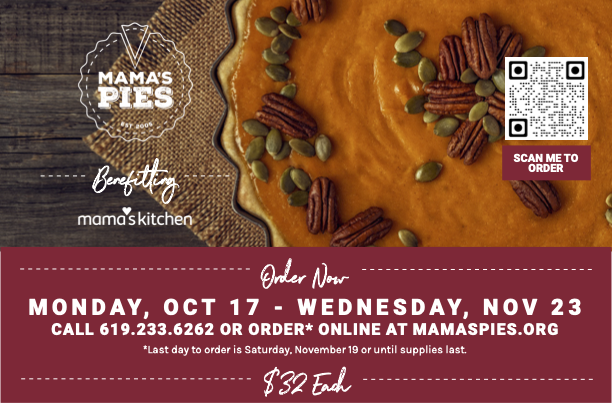 Thanksgiving is right around the corner!  Are your holiday pies handled yet?
Please join us and help make an impact on those in need this holiday season.
Mama's Kitchen is an organization that delivers meals to homebound individuals vulnerable to malnutrition due to conditions such as HIV, cancer, heart disease, and more. Their primary fundraiser is Mama's Pies and with the purchase of each pie, they're able to produce and deliver 12 meals to those in need!
Sales end Nov. 19th or as long as supplies last, so get your orders in ASAP.
To buy pies and/or donate, here's the information:
1. Visit our selling page: https://mamaspies.org/seller/donna-klinge/
2. Click "Buy or Donate Pies."
3. Add your desired pies to your cart.
4. Under the "Select a Seller" section, click "Yes" and select "Seller: Jim & Donna Klinge."
5. Choose your desired pick up location OR under Private, choose "PRKLINGE" to have our team deliver it to your home in San Diego! If choosing delivery, we'll reach out for your address.
6. Add in any donation amount if you'd like.
7. Put in your payment method and click submit!