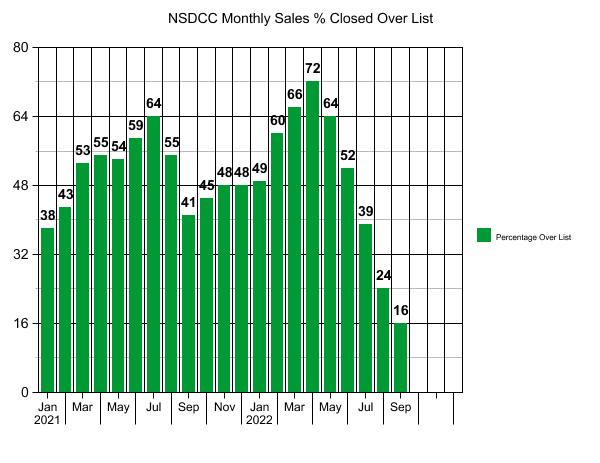 ~~~~~~~~~~~~~~~~~~~~~~~~~~~~~~~~~~~~~~~~~~~~~~~
NSDCC Average and Median Prices by Month
| | | | | | |
| --- | --- | --- | --- | --- | --- |
| Month | # of Sales | Avg. LP | Avg. SP | Median LP | Median SP |
| Feb | 224 | $2,298,797 | $2,257,334 | $1,719,500 | $1,758,000 |
| March | 252 | $2,295,629 | $2,260,524 | $1,800,000 | $1,825,000 |
| April | 357 | $2,396,667 | $2,403,962 | $1,799,900 | $1,828,000 |
| May | 300 | $2,596,992 | $2,581,715 | $1,900,000 | $1,994,500 |
| June | 348 | $2,509,175 | $2,537,953 | $1,900,000 | $1,967,500 |
| July | 311 | $2,421,326 | $2,442,738 | $1,795,000 | $1,855,000 |
| Aug | 268 | $2,415,075 | $2,438,934 | $1,897,000 | $1,950,000 |
| Sept | 278 | $2,479,440 | $2,445,817 | $1,899,000 | $1,987,500 |
| Oct | 248 | $2,754,470 | $2,705,071 | $1,899,000 | $1,899,500 |
| Nov | 199 | $2,713,693 | $2,707,359 | $1,999,000 | $2,100,000 |
| Dec | 189 | $2,686,126 | $2,664,391 | $1,985,000 | $2,157,500 |
| Jan | 140 | $2,828,988 | $2,855,213 | $2,234,944 | $2,240,000 |
| Feb | 158 | $3,063,331 | $3,108,907 | $2,149,500 | $2,386,500 |
| Mar | 207 | $3,247,251 | $3,337,348 | $2,400,000 | $2,625,000 |
| Apr | 227 | $3,190,161 | $3,251,604 | $2,350,000 | $2,550,000 |
| May | 214 | $2,941,080 | $3,030,794 | $2,350,000 | $2,480,000 |
| Jun | 188 | $2,871,956 | $2,881,314 | $2,297,500 | $2,350,000 |
| Jul | 152 | $2,892,729 | $2,833,588 | $2,272,000 | $2,280,000 |
| Aug | 161 | $2,953,967 | $2,849,332 | $2,200,000 | $2,150,000 |
| Sep | 134 | $2,652,892 | $2,560,764 | $2,134,500 | $2,020,000 |
BOTH THE AVERAGE AND MEDIAN SALES PRICES ARE -23% SINCE MARCH.
We saw that the difference needed to fully compensate for the higher rates is -30%.  We're almost there, and the full effect should be built in by springtime!
Please note that I didn't say home prices are down 23%.
The median sales price is 23% lower than it was six months ago.