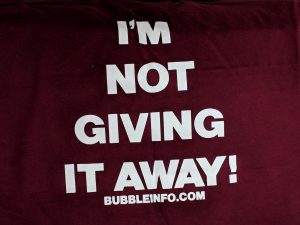 It was back when some homeowners had little equity that my favorite seller quote became a t-shirt legend.
But we still hear it today – when it comes to price, home sellers regularly say, "I'm Not Giving It Away!".
Their equity positions used to be pennies, compared to today.  Back in 2009, there were plenty who were just hoping to break even, and maybe come out with enough cash at closing to buy a steak dinner!
Now that every NSDCC homeseller has hundreds of thousands of dollars' worth of equity, will they loosen up a bit? After all, the last 20% to 30% came pretty easy (in just a year or two) and if they had to give up some or all to make the deal, they certainly could
But will they?
Many potential sellers get so mad about paying the capital-gains tax that it prevents them from moving.  Those who are on the open market in October of 2022 have already dealt with that fact mentally, so they must have a fairly good reason to sell.
Those who will dump on price must be really motivated.  It probably also means their house isn't that great because nobody wanted to buy it at retail, or for a little under.  Can you live with one of those?
The stock market has been cooking this week, and bond yields coming down in hopes the Fed might slow down the pace of their rate increases. Or maybe even pause, and take a look around at what they created?
If that were to happen, then the 2023 Selling Season should be somewhat healthier as rates dip into the 5s just as more quality homes are coming to market. If current sellers start to get a sniff of that, then they will cancel their listing and wait until next year.
Which means those who are still actively trying to sell the rest of this year must be unusually motived – and your best candidates to test whether they will give it away!  Stay in the hunt!
Bill's take – there may be more deals available sooner than you think: