Over the last few years there are two groups of buyers who have been left behind; the self-employed who have a tough time qualifying for a mortgage, and the contingent buyers because there have been enough non-contingent buyers that sellers would prefer.
There hasn't been any relief for either group, and probably none forthcoming.
Those who want to use the equity in their home to purchase their next house can usually find a solution if they want to move bad enough. You can always do the double move, where you sell first, then rent and wait patiently to buy the next one.  You can get a bridge loan, though expensive and qualifying isn't easy.  You can leverage yourself to the hilt and buy the next home before selling.
But for some, those options don't fit.  Just the ease of having the next purchase be simply tied to the sale of the last home might be a relief for some sellers to get comfortable with moving.  But will listing agents consider an offer that is contingent upon the sale of another?
They just might – especially over the next four months. Those who should consider it are the listing agents of the 171 homes for sale between La Jolla and Carlsbad that have been on the market for more than 60 days (41% of the total number of active listings).
The CAR just revised the COP form in June: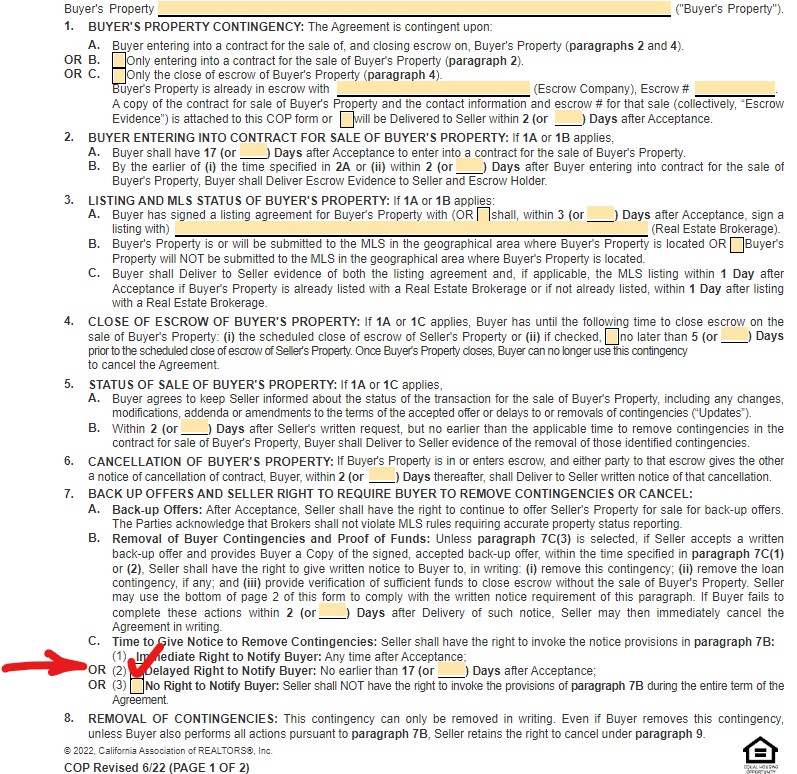 I'm sure all of these paragraphs are necessary, but they leave out the most important ingredient and the fact that would make a difference – the listed price of the contingent property!
If I had a listing that had been on the market for 60+ days and was heading into the 2022 off-season (otherwise known as the Post-Frenzy Apocalypse), I'd consider an offer contingent upon the buyer's home selling – and I'd give them the 17 days in paragraph 7C2 checked in red above.  But I'd want to know what your list price is!
If I thought the buyer's home was priced aggressively, then what do I have to lose? Seventeen days of market time, during which I can still be looking for back-up buyers……in an era when I might not get another showing, let alone an offer?
Heck yeah, I'd consider a contingent offer – if I just knew what the list price was!
If I was representing the buyer, I'd include my signed listing of the buyer's home to show – and sell – the listing agent on how our contingent offer would be a viable solution. Let's do it!