My thoughts on commentary seen in the news today:
With rates rising, and prices significantly higher, the average borrower is paying about 38% more on the monthly payment now than they would have for the same home one year ago, according to Realtor.com.
JtR: This is crushing the move-up/move-down market, with very few existing homeowners needing to move bad enough to start over on a new 30-year mortgage at a higher rate (86% of mortgage holders have a rate under 5%).
~~~~~~~~~~~~~~~~~~~~~~~~~~~~~~~~~~~~~~~~~~~~~~
Mortgage applications to purchase a home fell 3% for the week and were 14% lower than the same week one year ago. That annual decline is now beginning to grow, as housing becomes even more pricey.
"In a housing market facing affordability challenges and low inventory, higher rates are causing a pullback or delay in home purchase demand as well. Home purchase activity has been volatile in recent weeks and has yet to see the typical pickup for this time of the year," added Kan.
March sales were 4.5% lower than the same period in 2021.
JtR: Sales are dropping due to lack of supply, yet the talking heads will blame it on the demand side.  There is no shortage of demand around San Diego County – plenty of buyers waiting.
~~~~~~~~~~~~~~~~~~~~~~~~~~~~~~~~~~~~~~~~~~~~~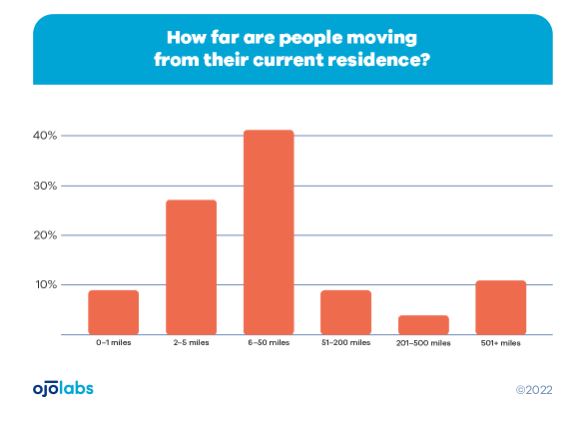 A new study conducted by OJO Labs, an online real estate site and personal finance tool, found that the vast majority of recent home seekers are unwilling to relocate extreme distances, and are instead looking to buy much closer to their current homes.
It suggests that while buying a home in another state may have become a popular move for some during the pandemic—especially for high earners—most people looking for a new home right now are not venturing too far.
The OJO Labs study, published at the very end of March, surveyed more than 500 prospective homebuyers about their experience over that month. Of these, 41% were limiting their search to within six and 50 miles from their current home, while 36% were interested in buying a new house only if it was fewer than five miles away.
Only 11% of respondents were willing to move more than 500 miles away from their current address.
The findings push back on the pandemic-era narrative of New Yorkers and Californians moving to more livable cities in states like Arizona, Texas, and Florida.
JtR: Those who are only searching within a 50-mile radius of NSDCC probably won't find anything that makes it worth moving – the prices aren't low enough. There needs to be a bigger windfall to compensate for the capital-gains taxes, and feel like a big win. Nobody is going to move just for the heck of it. Thus, our supply is dependent upon those willing to move a long ways.
~~~~~~~~~~~~~~~~~~~~~~~~~~~~~~~~~~~~~~~~~~~~~
Daimler went on to say that Zillow does not believe that the "double dipping agent" — or in other words dual agency in which the same person represents both a buyer and a seller — is the future.
"We don't believe in that philosophy and we don't believe that's where the industry is going," she added.
JtR: She needs to spend a few days on the street to know what's really going on – it's never been so hard to be a buyer's agent.  I finally succeeded with a set of buyers on their 12th offer, which was 40% higher in price than where we started six months ago. It will be a natural progression that buyer-agents get phased out altogether, and CoStar's new search portal that directs the consumers back to the listing agent will be the last straw. It will debut in New York City this summer.