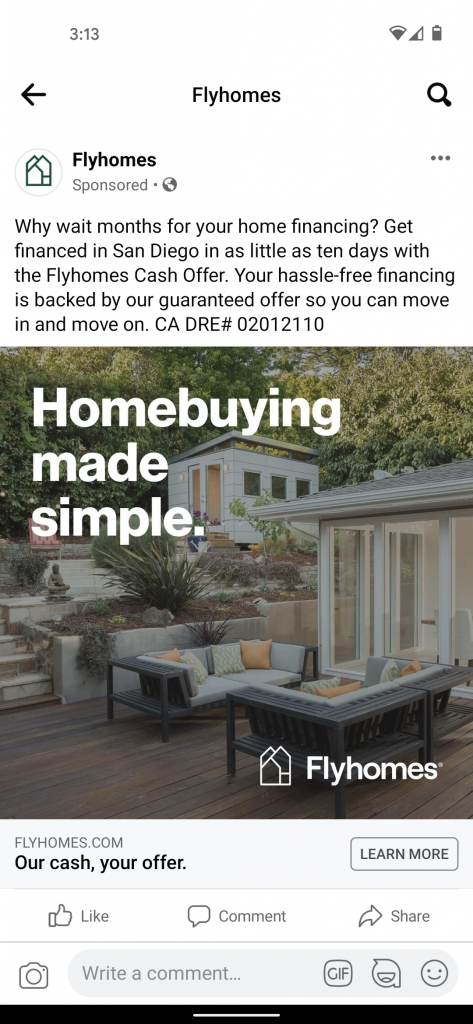 A reader asked about this company, and but I didn't think they were operating in California yet.  But they are – and it sounded like a great idea too.
Their initial pitch was to charge 2% for providing the funds for buyers to make all-cash offers on homes.
But they just had to keep going, and now they now have a full staff of clerks to provide realty, mortgage, title, and escrow services too.
CEO and co-founder: Our approach—which brings every step of the process under one roof—helps buyers separate fear from risk to make more informed homebuying decisions. We are thrilled to bring our reimagined real estate process to create radically different experiences for homebuyers.
It will be radically different alright. They have had seven listings in San Diego County so far, and ALL of the listing agents got their real estate license this year.  Their office is in San Mateo.
The disruptors all think this business looks easy, and by hiring a few novices, they can load up on VC money and conquer.  But they could have offered the initial plan to all realtors and made their 2% on far more sales than they will with their skeleton staff cutting their teeth on the whole process.
~~~~~~~~~~~~~~~~~~~~~~~~~~~~~~~~~~~
Richard found a company that says they will provide funding for buyers to make all-cash offers, but their website doesn't mention the program:
https://vimeo.com/user21327396/review/575935386/c4ee7f8712
~~~~~~~~~~~~~~~~~~~~~~~~~~~~~~~~~~
It could be a great idea if implemented effectively to all realtors!