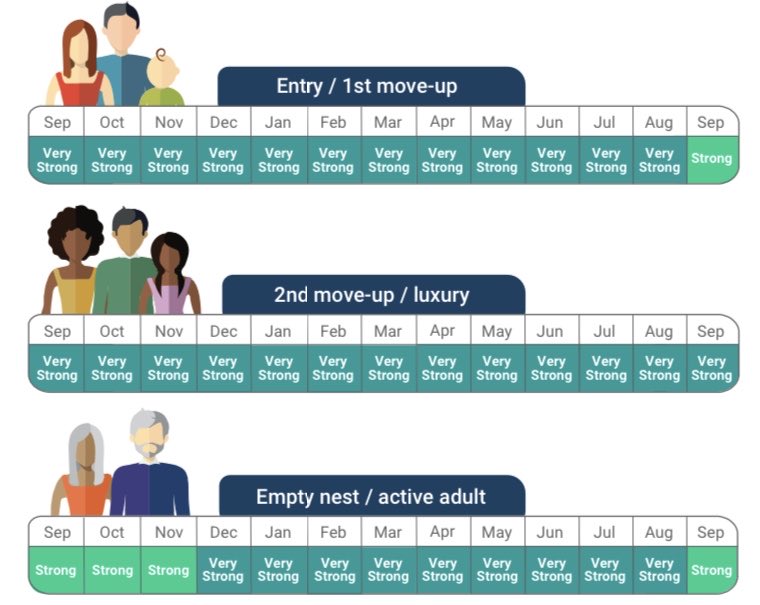 School is back in session and the holidays are right around the corner – it's the time of year that potential home sellers start looking forward to the next selling season, instead of moving in September/October.
Are you thinking of waiting until 2022? Here are my reasons for selling now, instead of later:
1. The Shine Is Off The Frenzy.  Those who are pulling back on their enthusiasm:
JBREC – Two of three buyer categories are down slightly (above chart).
CoreLogic – they only predicted a gain of +9.1% in San Diego pricing over next 12 months, which is way less than the +23.7% since last July. Don't be surprised if +9% becomes the new +3% of predictions – it's a lot higher than the previous safe bets without being double-digit.
Zillow Offers – backtracking 5% on price commitments made 2-3 weeks ago.
Navy Fed – suspended the issuing of home-equity loans 'temporarily'.
Refi appraisals – heard of several appraisals coming in low as market softness creeps into their minds.
2. Interest rates – They have nowhere to go but up, and it's just a matter of when. Once they start, home buyers will want something in return from sellers.
3. Boomer liquidations – There probably won't be a mass exodus, but all you need is 2-3 on your street.
4. Fewer Fix-Ups – The current inventory is so thin, sellers are getting away with murder now. If there was an index that measured how close sellers got to selling 'as-is', we'd be setting records today.
5. Safe – You know what you can get today, and let's admit – it's a lot higher than it used to be. Cashing out now instead of risking any of the above getting worse in 2022 is the safe bet. How much are you hoping to hold out for next year? Another 2% or 3%?
When is the best time to sell? When everyone else isn't!