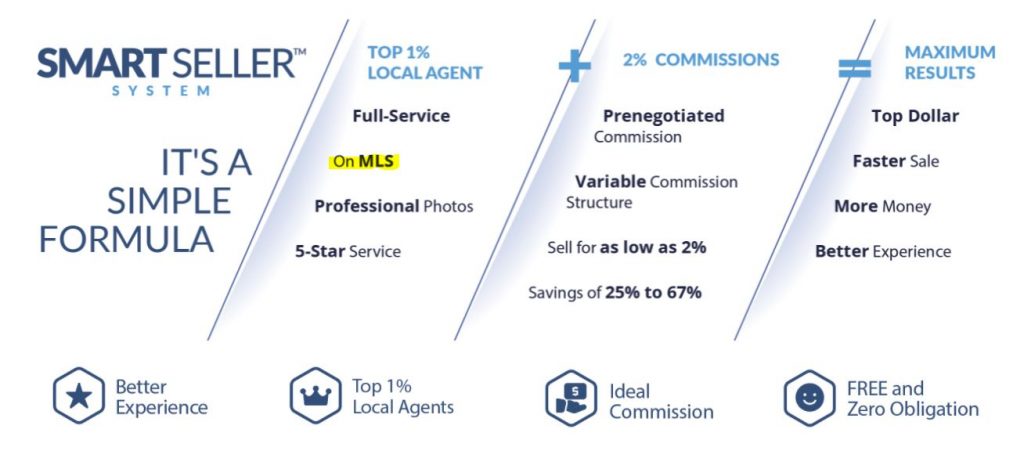 Let's discuss the TV ads that are running by this company:
Home sellers have a sneaky suspicion that they should hire a great agent, but they don't want to pay 6%. These ads combine these two pain points beautifully, and offer to pair you with a Top 1% agent for only 2%!
Their fine print seems to back it up too:
*Our agents will list for 2% and offer the typical Buyer's Agent commission in your market ranging from 2% to 3%. The average Buyer's Agent commission nationwide is 2.5%. If a buyer calls on your house directly without an agent, our agents have agreed to do the entire transaction for only 2% total. Homes under $150,000 will have a minimum list side commission of $3,000.
Let's get to the real truth. Several points:
They say their service is FREE. But they are running national TV ads?  Who pays for those?  The realtors pay for those!  They have to give a split of their commission to the advertising company. Do you think the Top 1% of realtors are jumping at the chance to work for 2% and then give up 20% to 30% of that to the lead source?  No way.  They have enough other retail business that they don't have to discount their commission.
The commission is 'pre-negotiated', but that only means that the realtors have to offer 2% as one of the commission options.  Because the listing agent will also have a 6% commission option, they get paid LESS with the 2% plan.  Because the best agent-teams have buyer-agents who get a spiff too, the 2% option will only rarely get implemented – there's not enough $$ to go around.  The home's listing goes onto the MLS/open market, which means the chance of an outside agent selling the home is at least 90%, and because of the dis-incentive, it's probably more like 98% chance of not being a 2% commission plan.
The listing agent may normally offer a 5% commission plan.  But because he has to pay the 20% to 30% to the lead source, it will get passed on to the seller in the form of a 6% commission.
Because of the seller's zest to only pay the 2%, they will sign up after a spectacular listing presentation that doesn't reveal the truth about the chances of the 2% commission being so unlikely.
The sale will go smoothly, and the sellers will be on their merry way. If they happen to glance at their closing statement, they might notice that they paid 6% in the end, but hey, it's over and they shrug it off.
There is one revelation of truth at the bottom of their website: