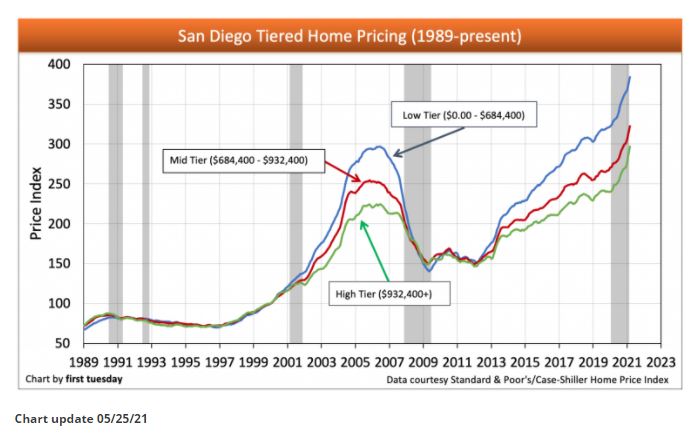 This graph is charting the local Case-Shiller Index.  The latest reading is from March, so these trends are reflecting the first quarter of 2021 – which means these lines will be going straight up for at least another 2-3 readings before there is any chance of a change.
The editors expect a collapse in prices next year, though they are coming to the wrong conclusions:
https://journal.firsttuesday.us/california-tiered-home-pricing-2/1592/
Can we learn anything from history?
The 2003-2007 era was goosed by increasingly-easier financing each year, so using those years as a gauge wouldn't be accurate (financing has never been so tough to get now).
But the 2013 frenzy lasted for about a year – as long as we've been on fire now.
Are we due for a cooling off? Today, there are listings on the fringes that aren't selling as fast, or at all.
But the red-hot newer tract homes with decent yards and pools will continue to attract a crowd, as will the single-story homes – probably straight through the 2022 selling season.
Get Good Help!