Zillow is optimistic that we will see more homes being listed for sale:
In prior years, inventory has generally increased in March, and the return to some seasonal normality is a positive sign that the market is reaching a more steady state and could see inventory rise more steadily going forward. With home values skyrocketing, vaccination rates rising, and employees getting long-term guidance on where they can work, we expect an increasing number of homeowners to enter the market and list in coming months. That will come as welcome news to home shoppers enmeshed in bidding wars and watching homes get plucked off the market weeks faster than usual.
But their graph shows an interesting trend.  Our inventory had already been dropping since the middle of 2019, and is probably why the beginning of 2020 felt hotter than usual: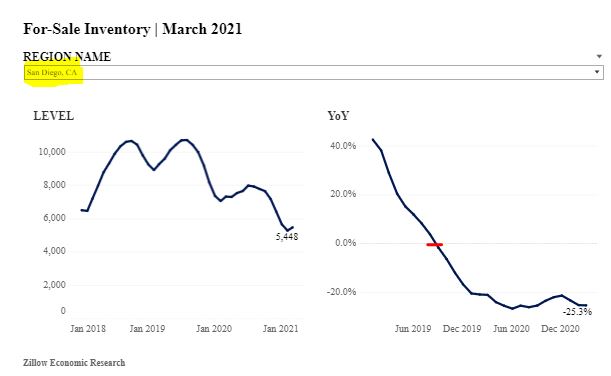 If we are nearing two years' worth of declining inventory, than it wasn't just a Covid-related event – which means the low-inventory environment will persist after Covid is gone.
If baby-boomers control our destiny and continue to age in place, then it may last for years to come.
But does it impact sales?
Here's how this month's numbers compare to the full month of April, 2019:
NSDCC Listings and Sales in April
| | | |
| --- | --- | --- |
| Year | Number of Listings | Number of Detached-Home Sales |
| 2019 | 494 | 265 |
| 2021 | 293 | 268 |
We have already exceeded the number of sales for all of April, 2019 with a few days left to go!
These are the optimal frenzy ingredients of all-time!
If we do see more homes coming on the market, they should all get gobbled up and cause even crazier market conditions as buyers could have a new listing to consider every week, instead of every month. It might even put a dent in the pricing trend that has been going straight up: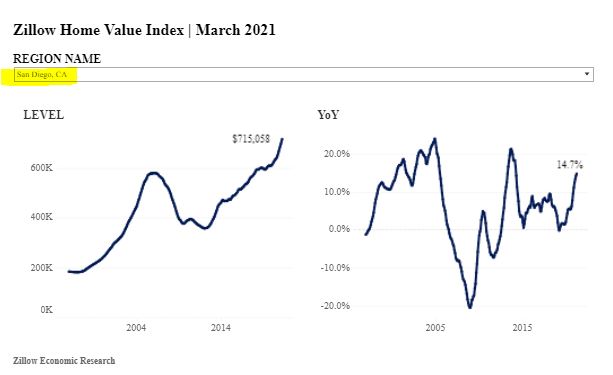 https://www.zillow.com/research/march-2021-market-report-29350/