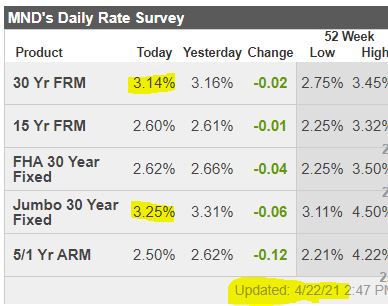 Mortgage rates have settled down nicely, and are back in the high-2s for those home buyers who don't mind paying a half-point or so (those quoted above are with zero points paid).
Not sure that it matters. Not sure that anything matters any more.
I had a great conversation with a top Compass agent today discussing the market conditions.
Specifically, what do you tell buyers?
Thankfully, the market is so hot that we have more sales to rely on.  Even with the prices going up, at least there are a few recent sales nearby that help to substantiate the trend.
Is adding 1% per month to pricing enough to keep up with the actual? 1.5%?
Or how about 2.0% per month in the quality mid-range markets, both local and national?