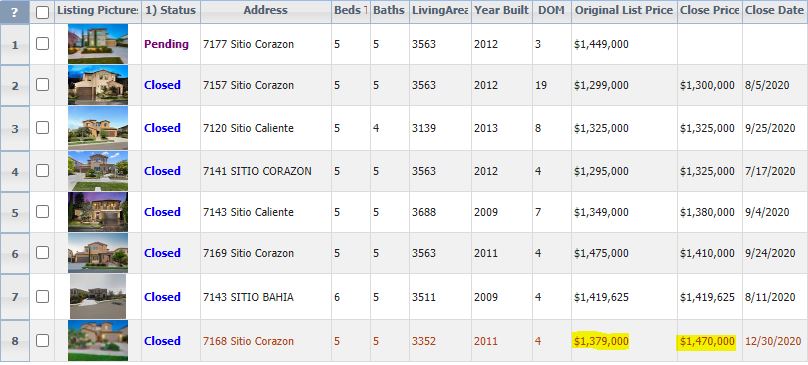 My listing in La Costa Oaks closed escrow today!
I'm sure people are thinking….
"Did they just get caught up in the frenzy fever – or is Jim really that good"?
"Or does he just list 'em low just to stir up the frenzy?"
Let's consider the two most recent sales, #3 and #6 on the list above.
Number 3 is a model-match to the subject property, but it did not have the additional bedroom and full bath down like we did. Our list price of $1,379,000 reflected a $54,000 premium for those.
Number 6 is the bigger floor plan and is RIGHT ACROSS THE STREET from our listing – and it closed for $1,410,000.  We would have to expect that buyers would consider it strongly.
Two things to note about the subject property:
We have a downstairs master suite, which is an in-betweener. Seniors who want the traditional one-story think it's too much house for them, and some families with little kids don't like having them on a different floor.  It's probably why we had three offers, and the pending listing had eight offers.
Our backyard was a similar size as all the other comps and was tastefully landscaped, but it didn't have any extras that would cause people to pay more. It also had a window that stood out: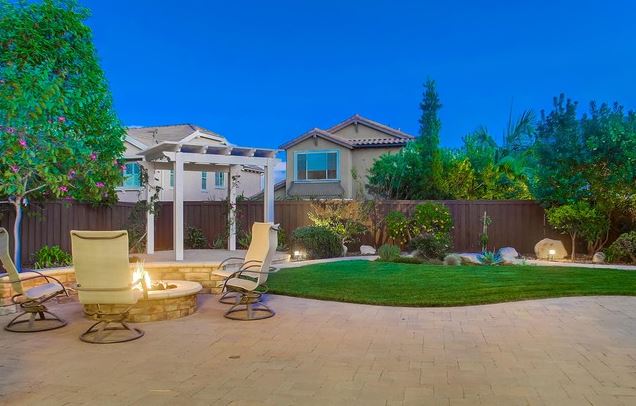 All considered, our original list price of $1,379,000 looked like full retail when we started.
Nobody offers $91,000 over list just for the heck of it. Only two of comps closed substantially over list price, and just by $30,000 – which is way different than $91,000 over.
Admittedly, our market conditions have been hot and the inventory had dwindled down to there being virtually nothing similar for sale when we listed. But it was also December, so the holiday spirit or the raging pandemic could have cooled our chances too.
Someone must have created an ideal environment for buyers to pay the extra pop!
Two other notes:
Mr. Seller has read the blog since 2005 – my second seller this year who has been here since the beginning!
I first met the sellers on December 1st, and thirty days later they closed for $91,000 over list price.  Is that the type of efficiency you'd like to have?  Then contact me to sell your house!
~~~~~~~~~~~~~~~~~~~~~~~~~~~~~~~~~~~~