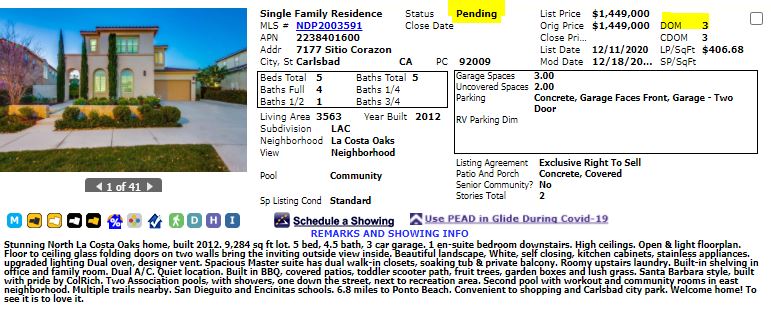 An update from the agent on the new listing (now pending) in La Costa Oaks:
27 showings, 8 offers significantly over asking. It was crazy! So many buyers from the Bay Area!
I had seven agents contact me for details about my sale that's pending across the street.  Because of the old wives' tale about not divulging the sales price before closing, most agents don't expect much from these calls, and just hope for a crumb to take back to their buyers about pricing.
I told the listing agent, and all seven buyer-agents, that my sales price was $1,470,000.
Transparency is good for everyone. The closest we can get to open auctions, the better – where all the evidence is available to everyone to make decisions with. My primary responsibility is to my sellers, who benefit from a higher price nearby that keeps our buyers happy and closing as scheduled.
The agent didn't offer her sales price, but we'll come back later and revisit.  Key fact is the number of offers.  I had three, and she had eight offers. Could demand be increasing as we get past the holidays? Zillow expects pricing to go higher than in 2020, which means a crazier market in 2021 than we've had recently!
LOCAL OBSERVATIONS AS WE ENTER 2021:
There are 20-30 buyer groups looking to pay $1,300,000 – $1,500,000 for a tract home around La Costa Oaks and maybe/probably La Costa Valley. There have been 92 sales this year in that range, and last year we had 50.
There are 30+ groups who looked at a 1980s one-story 3,000sf home in Encinitas for $1.6M.
There are hundreds of buyers for homes under $1,000,000 in Carlsbad & Encinitas.
There are unlimited buyers for one-story homes with nice ocean views – at any price.
Attractive pricing works!
Results will vary for sellers of homes that are older, unique, and not staged properly. Buyers are going to be picky, which means the creampuffs will be hot, and everything else will be……well, we'll see!