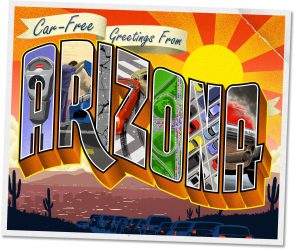 It makes sense to build communities in the desert and run them off solar. In the video, she says they want to build one for 100,000 people!
Phoenix, that featureless and ever-spreading tundra of concrete, has been called "the world's least sustainable city." It has been characterized as a "sprawling, suburbanite wasteland" and "a monument to man's arrogance." The Onion has darkly predicted that by 2050, "most of Earth's landmass" will be swallowed by the encroaching Phoenix exurbs. The Walk Score index ranks the place as the second-worst big city in America for pedestrians, and traversing it has been described as "a slog through a desert, plus the occasional McDonald's."
The Phoenix metropolitan area is, in other words, the last place you would expect a real estate developer to spend $170 million creating what it calls the first-ever car-free neighborhood built from scratch in the United States.
The development, Culdesac Tempe, is a 17-acre lot just across the Salt River from Phoenix.
Currently a mess of dust and heavy equipment, the site will eventually feature 761 apartments, 16,000 square feet of retail, 1,000 residents — and exactly zero places for them to park. The people who live there will be contractually forbidden to park a car on site or on nearby streets, part of a deal the development company struck with the government to assuage fears of clogged parking in surrounding neighborhoods.
Culdesac Tempe is a proving ground for a start-up also called Culdesac, which was founded in San Francisco and moved to Tempe during the pandemic. Started in 2018 by two native Arizonans, the company announced the project last year to a mixture of curiosity and doubt. Urbanists cheered it as a bold and important step toward a future with fewer cars, while suburban developers said the concept could never work on a large scale.
https://www.nytimes.com/2020/10/31/business/culdesac-tempe-phoenix-sprawl.html
From their website:
We're undergoing the first major shift in transportation since the interstate highway system. Private car ownership is giving ground to transportation that is on-demand, shared, and (on average) more environmentally friendly. That 1-mile trip to get ice cream is increasingly happening on shared bikes, electric scooters, or on foot. Lyft Shared and Uber Pool make daily trips more affordable. And there is a renewed interest in public transit investment, including the expansion of the light rail in Phoenix.
People have responded by making different personal choices. In 1983, 46% of 16-year-olds had licenses. Today, it's just 24%.  Fewer cars, less roadway, far less parking. New possibilities for how we live.