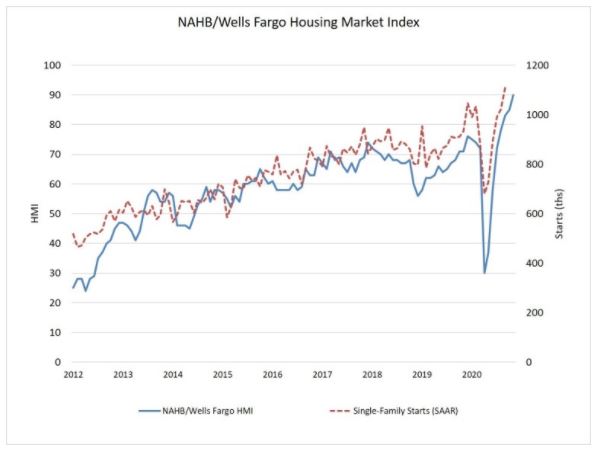 For the third straight month the level of builder confidence in the new home market set a record high. The National Association of Home Builders (NAHB) said the Housing Market Index (HMI) it co-sponsors with Wells Fargo soared 5 points in November to 90. This is the highest level in the 35-year history of the HMI which set records of 83 in September and 85 in October. These are the only times in its history that the Index surpassed the 80-point level and is triple its level in April when the pandemic caused it to plunge.
NAHB cautioned, however, that 69 percent of the survey responses were received before the results of the presidential election were called on Nov. 7. The election results and their future impacts on housing market conditions, will be more fully reflected in December's HMI report.
Robert Dietz, NAHB chief economist, said that builder confidence has soared because historically low mortgage rates, favorable demographics, and an ongoing buyer preference for the suburbs have spurred demand and raised new home sales by nearly 17 percent year-over-year. He added, "Though builders continue to sign sales contracts at a solid pace, lot and material availability is holding back some building activity. Looking ahead to next year, regulatory policy risk will be a key concern given these supply-side constraints.
Regional scores are presented as three-month moving averages. The Northeast increased two points to 83, the Midwest jumped six points to 80, the South and West each rose four points to 86 and 94, respectively.
http://www.mortgagenewsdaily.com/11172020_nahb_builder_confidence.asp